Encona - Extra Hot Pepper Sauce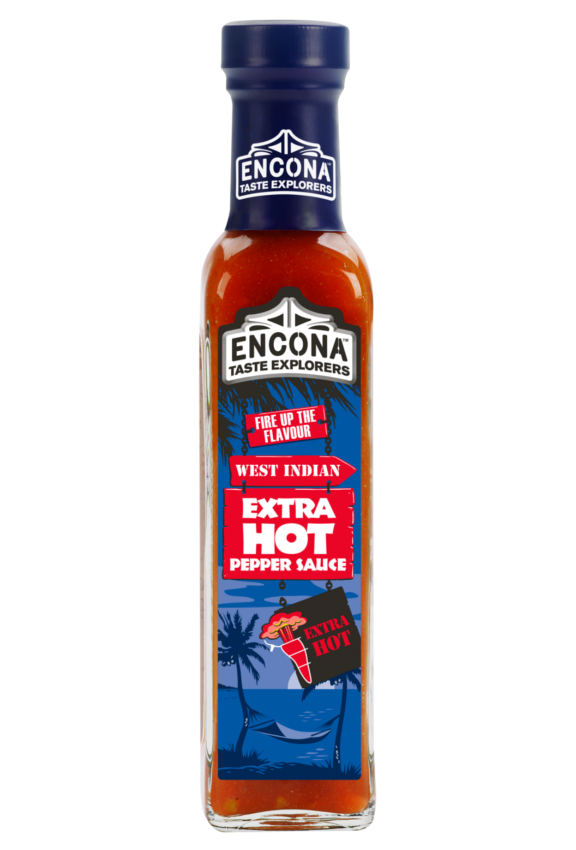 Maker:
Grace Foods
Welwyn Garden City, United Kingdom
Pepper(s):
Habanero, Bhut Jolokia (Ghost Chili), Scotch Bonnet
Ingredients:
Hot Pepper Mash (55%) (Peppers (89%) (Habanero Peppers, Scotch Bonnet Peppers, Bhut Jolokia Peppers), Salt, Acid: Acetic Acid), Water, Salt, Acid: Acetic Acid, Onion Powder, Birds Eye Chilli, Garlic Powder, Mustard Powder, Modified Maize Starch, Stabiliser: Xanthan Gum, Preservative: Potassium Sorbate
Description:
Official:
"Explore a taste of the Caribbean with Encona West Indian Extra Hot Pepper Sauce. Made to a traditional Caribbean recipe using a super fiery blend of Habanero, Scotch Bonnet and Bhut Jolokia peppers. The result is a deliciously hot and spicy sauce made specially for those wishing to explore a classic Encona flavour, with an extra hot kick!"
User Reviews
B3.4

Reviewed by ilikehotsauce on September 30th, 2017

Taste: 3.3
Aroma: 3.2
Looks: 3.8
Heat: 3
Label: 3.1

Label:

142ml bottle from The Co-op, Reading. Nice square bottle and label design. Label calls it extra hot and has a chilli nuke.

Looks:

Nice syrupy consistency, not too runny or too viscous. Red colour with good amount of chunks and seeds, looks great.

Aroma:

Big vinegar and big salt mostly, some sweetish hot pepper mash notes.

Taste:

Very vinegary and salty, I've heard lots of people complain about this which is understandable, personally I like vinegary/salty sauces so I didn't have a problem with it, pepper mash, vinegary habaneros, light onion, not really sure about the Scotch bonnet and ghost pepper which is apparently in here though.

Heat:

Wouldn't call it extra hot but there is decent heat here, again I'm not really sure about the supposed Scotch bonnet and ghost pepper.

Overall:

Very vinegary and salty pepper mash sauce with good consistency, better than expected but might be too salty / vinegary for some.