Feisty Parrot - Demented Canary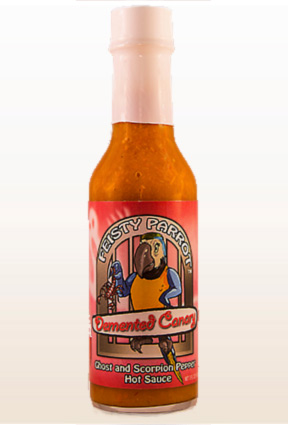 Maker:
Feisty Parrot
Riviera Beach, FL, United States
Pepper(s):
Bhut Jolokia (Ghost Chili), Trinidad Scorpion
Ingredients:
Carrot, Papaya, Celery, Onion, Apple Juice From Concentrate, Cider Vinegar, Lime Juice, Water, Tequila, Garlic, Ghost Pepper, Trinidad Scorpion Pepper, Salt, Spices, Xanthan Gum
Description:
Official:
"Feisty Parrot took two of the world's hottest peppers and cunningly combined them into an all natural, spicy 'go to' sauce. Fabulous on everything from eggs to shellfish. Containing no preservatives or extracts, it makes a mean marinade and is guaranteed to leave you feeling as demented as a canary!

Sometimes HOT things come in pink packages!"