Feisty Parrot - Savage Beast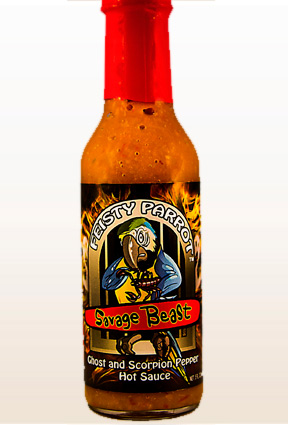 Maker:
Feisty Parrot
Riviera Beach, FL, United States
Pepper(s):
Bhut Jolokia (Ghost Chili), Trinidad Scorpion
Ingredients:
Carrot, Papaya, Celery, Onion, Apple Juice From Concentrate, Cider Vinegar, Lime Juice, Water, Tequila, Ghost Pepper, Garlic, Trinidad Scorpion Pepper, Salt, Spices, Xanthan Gum
Description:
Official:
"Like an arrogant phoenix rising from the flames our savage little hellion has soared in to unleash a perfectly matched, blisteringly exquisite blend of two of the Ghost and the Trinidad Scorpion!

Here at Feisty Parrot we use only the best ingredients with no preservatives or extracts to deliver an uncompromisingly unique experience. Pura Vida!"