Frankie V's - Spooky White Hot Sauce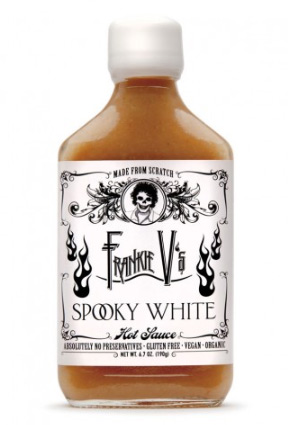 Maker:
Frankie V's
Dallas, TX, United States
Pepper(s):
Habanero
Ingredients:
Fresh White Onion, Garlic, White Vinegar, Rice Vinegar, Lemon Juice, Habanero Pepper, Ginger, Salt, White Pepper, Coconut Oil, Mustard.
Description:
Official:
"All Natural, All vegan, Gluten Free, Made from scratch"
User Reviews
A+4.9

Reviewed by DanielHahn on April 9th, 2023

Taste: 4.9
Aroma: 3.1
Looks: 4.1
Heat: 3.2
Label: 5

Label:

Love the bottle shape and the design is hard to miss

Looks:

Not quite white like the name suggests. But still unique with a nice thicker texture

Aroma:

Very acidic, which I'm not the biggest fan of, but it's not overpowering

Taste:

I love this sauce for its flavor more than anything else. It's got good spice and a nice vinegar and garlic flavor to compliment it. It has a slight sweetness to the original punch that is fantastic with meaty flavors.

Heat:

It's got a hard punch initially, but it dies off to a very pleasant level if you enjoy spice.

Overall:

This is probably my all time favorite hot sauce for barbecue, Mexican food, and soups, truly an underecognized masterpiece. Also, the glass is a fun and fitting shape that I love.