Grilling Star - Original Habanero Hot Sauce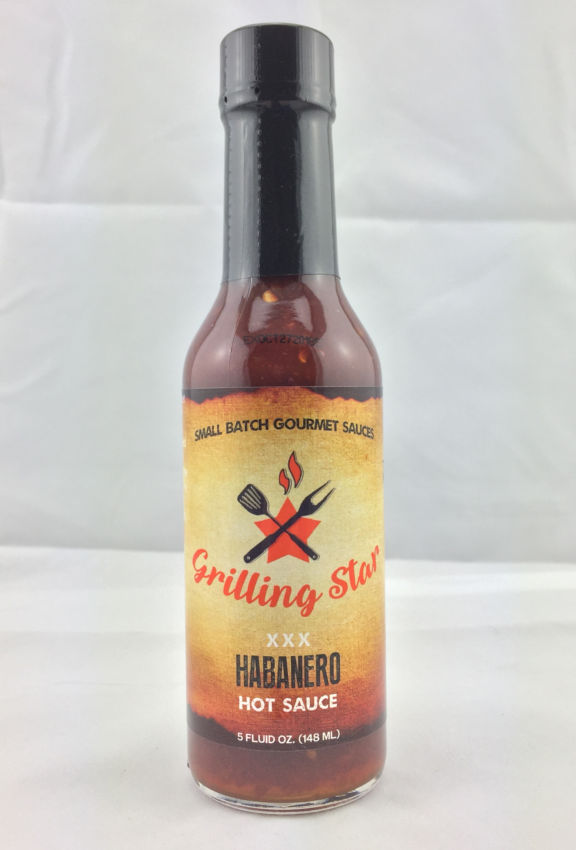 Maker:
Grilling Star
Charlotte, NC, United States
Pepper(s):
Habanero, Jalapeño
Ingredients:
Diced Tomatoes (Tomatoes, Tomatoe Juice, Salt, Calcium, Chloride And Citric Acid), Red Habanero Pepper, Brown Sugar, Pineapple, Peaches, Molasses, Honey, Red Wine, Vinegar, Jalapeno Peppers, Premium High Grade Certified Oleoresin Capsicum, Onion, Garlic, Crushed Red Pepper, Water
Description:
Official:
"All hot sauces are made equal, but some hot sauces are more equal than others! Grilling Star Habanero Hot Sauce is not trying to be like your regular hot sauce because it is uniquely different from the rest!

Our grilling star XXX gourmet hot sauce is small-batch brewed using the finest ingredients. Perfectly blended with peppers, spices and capsaicin extract to provide the insane hot kick you desire. Try it on your favorite grilled meats, Tex-Mex dishes, Chili's, Sandwiches, Chicken, Meat, eggs, etc. and you will be pleasantly amazed by its consistent flavor, freshness, and taste.

Warning:Our Habanero BBQ Sauce is very hot! Do not place on skin or get into eyes. Please use with caution."