Heirloom Hot Sauce - American Persimmon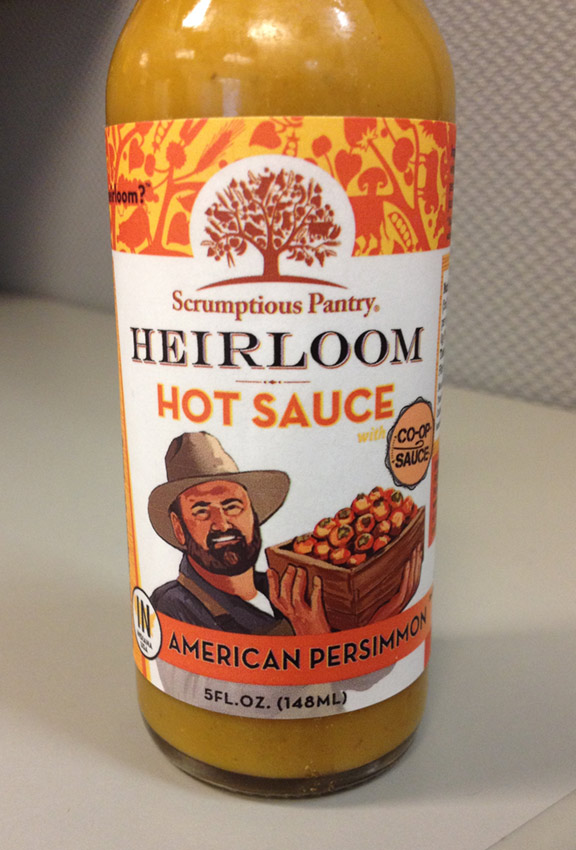 Maker:
Scrumptious Pantry
Chicago, IL, United States
Ingredients:
Water, Organic Distilled White Vinegar, Peppers, Sesame Paste, Persimmon Puree, Sea Salt, Orange Juice Concentrate, Garlic, Spices
Description:
Official:
"This sauce plays on the fruity notes of the native American Persimmon fruit, which we forage in the wilds in Indiana. The sweetness of the fruit is balanced with a dash of habanero. To give this medium heater its complexity, we first roast all the peppers to concentrate the sugars and then wild ferment the mash for two to three weeks. This sauce packs a punch on pizza, meat and seafood and is great on veggies."
User Reviews
B3.4

Reviewed by Thurston on June 12th, 2016

Taste: 3.5
Aroma: 3.5
Looks: 3.5
Heat: 2.9
Label: 3.5

Label:

Bright yellow label with the usual bearded smiling man hoisting the highlight of the sauce.

Looks:

A deep golden yellow. Dark flecks of spices. Smooth and very thin, almost watery.

Aroma:

A peppery hit with a noticeable undercurrent of distinct fruit from the persimmon.

Taste:

Immediate notes of sour orange followed by a spicy fruitiness. Not particularly sweet.

Heat:

A brief bloom of a burn in the middle of the mouth to the back of the throat. Vanishes quickly but definitely the hottest of the sauces I tried.

Overall:

An interesting sauce. I was worried that the fruit flavor profile might have been too sweet but that is far from the truth. It has a unique sour profile that might limit some of it's uses but it would be an excellent marinade or as a sauce for anything you are looking to add a little pucker to.