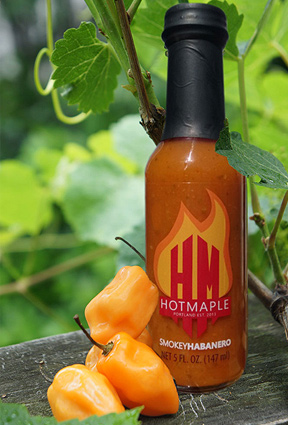 Maker:
Hotmaple Foods, LLC
Portland, OR, United States
Pepper(s):
Habanero
Ingredients:
Yellow Onion, Diced Tomatoes (tomatoes, Tomato Juice, Salt, Naturally Derived Citric Acid And Calcium Chloride), Water, Apple Cider Vinegar, Habanero (habanero Peppers, Salt, Citric Acid), Garlic, Pure Maple Syrup (us Grade A Dark Amber), Contains Less Than 2%: Spices And Liquid Smoke
Description:
Official:
"After nearly a decade of experimentation, we have created an exemplary sauce that uses 100% US Grade-A Dark Amber maple syrup combined with a special blend of spices and the most flavorful Habanero peppers to create an incredible hot sauce unlike anything you've ever tasted!

Try it, and you'll experience a sauce that gives you all the immediate heat and flavor of a habanero, without the after-effects. Truly the perfect all-around daily sauce."
User Reviews
A+5.0

Reviewed by ebmfreak on October 9th, 2013

Taste: 5
Aroma: 5
Looks: 5
Heat: 3
Label: 4

Label:

Label is simple, yet retro. Looks pretty cool, and is easy to read. Ingredients list on the back is a bit more difficult (small text) - which is why I can only give it a 4

Looks:

Beautiful orange-red color, you can definitely tell this is a Habanero sauce. The sauce is thick like a marinara and sticks to whatever you put it on. The bottle never needs to be shaken, and as far as I can tell no artificial thickeners were used - the sauce is labeled "All Natural"

Aroma:

This is just amazing. As soon as you crack the bottle the smell of onions and garlic with a sweetness from the maple syrup just hits you and you start to drool. This is what savory is all about!

Taste:

This has hands-down become my favorite sauce. It is so well balanced and compliments food you put it on.. it does not overpower. It seems to bring out flavors in the food you pair it with, rather than hide them.

Heat:

This is a consumer-friendly Habanero Hot. The heat is definitely there, but it fades quick and thus makes a good all-around sauce for everyone.

Overall:

This sauce gets my highest rating as it is one of the most unique and well balanced sauces I've had to date. It is good on EVERYTHING... Pizza, hamburgers, Hot dogs, Steak, Tacos, Eggs.... you name it. I haven't found something ti doesn't make better! I even made the drink recipe off the website at http://hotmaple.com and it was excellent too!