Hotty Yachty: Smoked Habanero Hot Sauce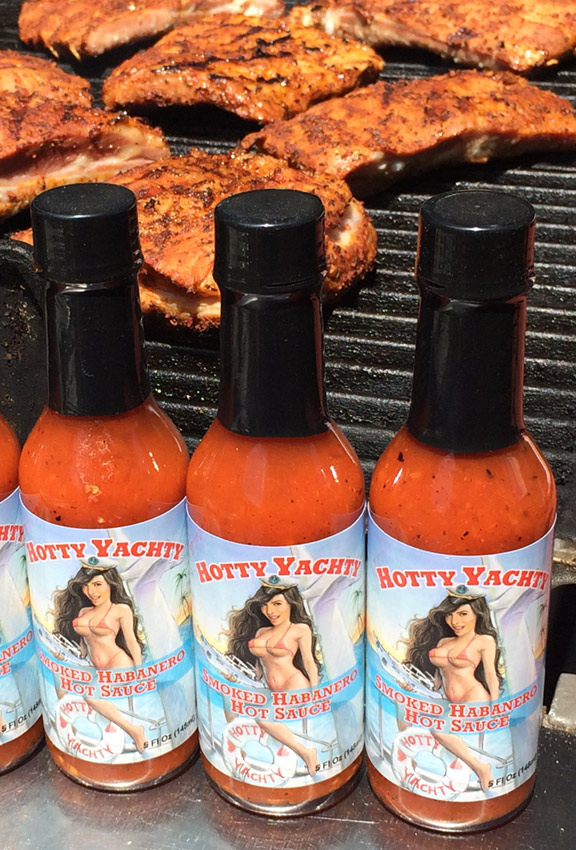 Maker:
Chef Peter Ziegelmeier
Largo, FL, United States
Pepper(s):
Habanero
Ingredients:
Vinegar, Special Spices, Habanero Peppers
Description:
Official:
"Hotty Yachty brand smoked habanero hot sauce is an amazing balance of savory herbed habanero bottled and manufactured in Largo Florida for Chef Peter Ziegelmeier a dynamic super yacht chef. The sauce is amazing flavor profile and the right amount of heat to enhance, quesadillas, burritos, tacos, steaks, chicken, tamales, eggs benedict, drinkatizers, bloody Mary's, Ciopino, Bouillabaisse, pizzas, flatbreads, stuffed jalapenos with cheese wrapped in bacon and deep fried and of course chicken wings and so so so much more!"
User Reviews
F0.5

Reviewed by Locorock26 on March 30th, 2016

Taste: 0.6
Aroma: 0.7
Looks: 0.6
Heat: 0.7
Label: 0.5

Label:

Some chic in a bikini... this 60 year old man need to understand that a hot girl don't make a hot sauce. #fail

Looks:

Nuclear orange? Is that a color? It is now.

Aroma:

Stinks of vinager, absolute trash.

Taste:

Taste like overpriced tabasco, would not recommend even to someone I hated. Absolutely to love or passion put into this garbage.

Heat:

Hot but bland and boring. Seriously no flavor at all felt like my mother in law made it. Stay away.

Overall:

Absolute trash, went to a restaurant and their chef harrested us into trying his hot sauce while on a date and begging us to review it. And honestly the sauce was as bad as the food and the service.