Huy Fong - Sriracha Hot Chili Sauce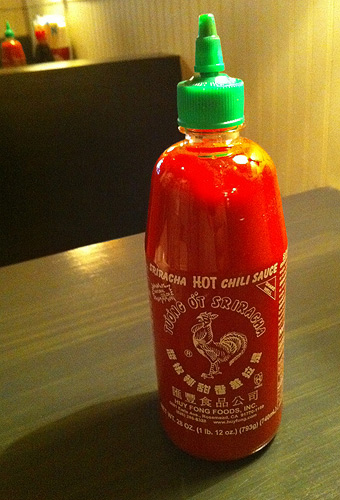 A
4.6 / 5
BASED ON

3

REVIEWS
Maker:
Huy Fong
Los Angeles, CA, United States
SHU
:

2,200
Ingredients:
Chili, Sugar, Salt, Garlic, Distilled Vinegar, Potassium Sorbate, Sodium Bisulfite, Xanthan Gum
Description:
Official:
"The Huy Fong Sriracha hot chili sauce is made from sun ripened chilies which are ground into a smooth paste along with garlic and packaged in a convenient squeeze bottle.This product is guaranteed to be made with only the highest quality ingredients and contains no artificial colors or flavorings."
User Reviews
A-4.0

Reviewed by chiligeorge on May 29th, 2015

Taste: 4
Aroma: 4
Looks: 4.6
Heat: 3
Label: 5

Label:

An interesting design. A lack of sticker on the bottle (i think) is made up with the 'out of the box' design of having the words printed on the plastic bottle, perfect (i mean perfect) for squeezing the sauce on your plate. You can spot this sauce anywhere and with its transparent design, you can see the sauce inside. The font used is unique to regular printed text. Use of underline, italics Very efficient labeling.

Looks:

A well blended concoction that's next to watery in consistency, but not thick and clumpy. Its got the consistency of thin mustard with tiny little clumps littered in the sauce, perfect for stopping drips. Nice pasty consistency and spreads well in food.

Aroma:

When i take the lid of, i smell a thick, garlicy aroma with a faint 'Doritos-salsa' smell. I can also detect the distant, sharp, sun ripened chili.

Taste:

I taste a lot of garlic, it is evenly salted and the pasty chili taste spreads evenly on the food and mixes well in your mouth. A decent heat and taste balance. Really like this.

Heat:

Its punchy, but not hot. The heat comes instantly and sits for a bit, but then it leaves abruptly that acts like a catalyst for you to get more. The more you put on, the more strong taste you are going to enjoy and the strong taste makes up for what it lacks in heat.

Overall:

Coming home from a long bus and train ride, i looked into the cupboard and asked me mother what this new sauce is. She said that dad got it and wanted to try it. I took the seal off and tried it with crumbled fish and my special rice (white, boiled rice with shredded cheese and a guest starring chili) and it was really good. I tried more, it was great. The day after, i used it in my chili con carne, it really works. Really nice flavour and it hits the spot with consistency. Quite possibly, my favourite consistency on a chili sauce.

A+4.8

Reviewed by adog56 on December 21st, 2014

Taste: 4.7
Aroma: 4.6
Looks: 4.7
Heat: 5
Label: 4.8

Label:

Easily identifiable around the world. Use this sauce in Paris Frsnce or Paris Texas A classic.

Looks:

Color nice red consistency varies to shakability Texture more than acceptable

Aroma:

Strong. flavorful pungent More vinegary than many similar sauces

Taste:

The heat predominates. Great to punch up Pho, which is where I found this sauce eons ago. Lingers just long enough ....essentially a garnish sauce vs a cooking sauce

Heat:

The burn is serious. Be advised to use sparingly and only as a garnish.

Overall:

If you know to use as a garnish sauce, with delicately or less seasoned Asian cooking, this is the ultimate hot sauce for these dishes. Works really well with Vietnamese food.others I have not tried enough to cast an opinion.

A+4.9

Reviewed by Onfirebabies on July 8th, 2012

Taste: 4.8
Aroma: 3
Looks: 4
Heat: 2.1
Label: 4.9

Label:

An unmistakable label. Its simple design will bring a smile to your face once you know the goodness that is contained inside.

Looks:

A pleasant orange red blend. The sauce has a slight thickness to it. Depending on how much you shake, you can adjust it to your liking.

Aroma:

A very sharp smell. Very garlicky with a strong vinegar signature.

Taste:

Outstanding taste. This sauce goes well with anything. Many sauces may make that claim but Sriracha truly delivers. A unique taste, with a fantastic garlic flavor.

Heat:

It doesn't pack much of a punch at all. It is a very mellow heat, that doesn't overwhelm or beat up on the flavor of your food.

Overall:

One of my Regulars. This one goes with it all. Never fear using it on any of your favorite dishes. When recommending a sauce to anyone who doesn't have much experience or a weak tongue, you cant go wrong here. A must have for all hot sauce fans.