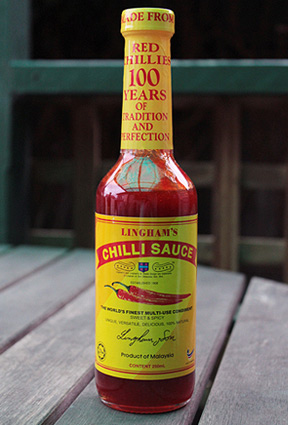 B+

3.8

/

5

BASED ON

2

REVIEWS
Maker:
Lingham & Son
Malaysia
Ingredients:
Water, Chilli, Sugar, Vinegar, Salt
Description:
Official:
"The World's Finest Multi-Use Condiment
Sweet & Spicy
Unique, Versatile, Delicious, 100% Natural
Among Lingham's Many Uses:
Table Sauce: Excellent for steaks, lamb/pork chops, all types of chicken, grilled/fried fish, egg dishes, tuna/shrimp/chicken salads, rice, potatoes, french fries, hot dogs, hamburgers, tacos etc.
Marinade for all meat, poultry and fish. Delicious for BBQ!
General dip: Mixed with yoghurt and/or sour cream for vegetables, potato chips, etc.
"Spice Up" salad dressings, mayonnaise, tartar sauce, etc."
User Reviews
B3.5

Reviewed by chiligeorge on October 5th, 2015

Taste: 3.6
Aroma: 3.6
Looks: 2.9
Heat: 2.6
Label: 2.8

Label:

Straight to the point. Text is of an easy to read font. It even gives useful tips on how to use it. Looks like this sauce has been perfected. Not exactly a flashy label however.

Looks:

Gooey soft red, similar to that of sweet chilli. Drips in a consistent, slimy stream, like honey (or sweet chilli for that matter). Not the easiest to mix though due to its thickness.

Aroma:

Faint chilli smell accompanied with an indescribable sweet aroma. Looking at the ingredients, it doesnt state any ingredient that its sweet. Med-strong pungency.

Taste:

It closely resembles sweet chilli in almost every way, except that this is hotter (slightly) and somewhat tastier. There is more edge in this than your regular sweet c.

Heat:

A large imbalance in the heat-to-flavour ratio. It is not a hot sauce. Even my mother can handle this..... which is a good thing, because it works for your average food consumer. I would prefer it much hotter.

Overall:

It is a satisfactory sauce. It gives many elements of sweet chilli, but it works as a hot chilli (barely). First trying this on homemade-style pizza, i was expecting it to be hotter. I didnt realise that the label was telling the truth about having it be sweet. It just doesnt pass as a hot sauce for me. More like a manlier version of the pussy chilli. I add some hotter sauces to this to make it, well, HOTTER. The flavour is something to remember though. Its pretty good.

A-4.0

Reviewed by Frits on August 9th, 2012

Taste: 3
Aroma: 3
Looks: 2.5
Heat: 1.5
Label: 3

Label:

Traditional, almost rustic graphic style; evokes a sense of history; a tried-and-tested recipe. Informative, well-presented text with a central image of chilli.

Looks:

A rich red. It has a smooth, slightly thick consistency, with small chilli pieces. Pours easily from the bottle.

Aroma:

A faint vinegar smell; no trace of chilli or sugar.

Taste:

There is an initial sweetness similar to sweet chilli sauce, yet with a slight sharpness perhaps caused by the vinegar or chilli, or perhaps the salt. Perhaps there is a stronger sense of the chilli in terms of its bitterness as opposed to its heat.

Heat:

There is not a great deal of heat to this sauce; the flavour is more focused on the bitterness of the chilli. There is a mild afterburn however, which is slightly more tangy than hot.

Overall:

As the instructions say, this sauce seems like a good all-rounder for many foods. It has a nice sharpness and sweetness which would accent the flavours of whatever food it is being added to. Its flavour is perhaps not so distinctive to serve by itself (such as being used as a dipping sauce) however would be a great accompaniment in cooking.