Mad Dog 357 - Ghost Pepper Hot Sauce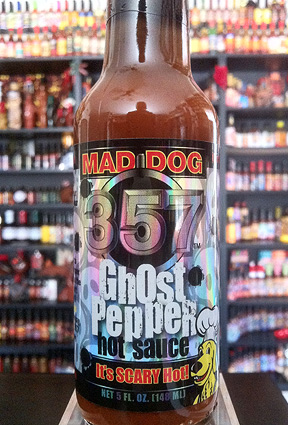 Maker:
Ashley Food Company
United States
Pepper(s):
Habanero, Bhut Jolokia (Ghost Chili), Peri Peri
Ingredients:
Vinegar, Chile Extract, Evaporated Cane Juice, Ghost Pepper, Fresh Habanero Peppers, Garlic, Onion, Peri Peri Peppers, Spices, Xanthan Gum
Description:
Official:
"Ever seen a ghost? One taste of 357 Mad Dog Ghost Pepper Hot Sauce, and you will!...your own! Made with the world's hottest chile pepper, the Bhut Jolokia, this isn't just super hot. This is world record killer hot. Open up the Guinness Book of Records and you'll see, the 'ghost pepper' as many call it, now reigns as the champion. But since you can't taste a book, taste this. You'll see. This is as scary as it gets! But be careful. or should we say, bhut be careful. Mad Dog 357 Ghost Pepper Hot Sauce may take more than just your breath away."
User Reviews
A-4.2

Reviewed by Jermfish719 on January 7th, 2013

Taste: 4.2
Aroma: 2.8
Looks: 3.2
Heat: 4.3
Label: 4.8

Label:

Great shiny label that creates a spectrum with light! Scary.....

Looks:

pretty thick sauce, you can see the spices (lots of black spice), medium dark

Aroma:

Just like the bottle says.. Vinegar, sugar, extract ....

Taste:

The sweetest hot sauce I ever tasted in my life.. But its very good! Its very hot and flavorful! The taste is dominated with sugar and extract, yet it is awesome..!!??

Heat:

Yup, alot of extract... This is a hot one. This heat will last a while.. The sweet also lingers!

Overall:

Blairs is one of the best! Everything they do. This is very very sweet. But this is the perfect mix of vinegar, sugar, extract, garlic, onion, peri peri you will ever taste. YUMMY! It's a hot one though..