Mad Dog 357 - Pure Ghost Hot Sauce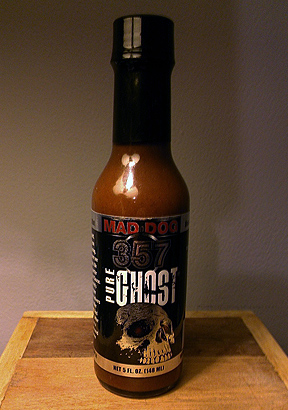 Maker:
Ashley Food Company
Sudbury, MA, United States
Pepper(s):
Habanero, Bhut Jolokia (Ghost Chili), Peri Peri
Ingredients:
Vinegar, Evaporated Cane Juice, Ghost Pepper/Bhut Jolokia, Fresh Habanero Peppers, Garlic, Onion, Peri Peri Peppers, Spices, Xanthan Gum
Description:
Official:
"Mad Dog 357 Pure Ghost Hot Sauce - No Extract Added To This Edition. Made with the Naga Jolokia "Ghost Pepper", The Worlds Hottest Pepper."
User Reviews
B+3.8

Reviewed by HSF on June 16th, 2012

Taste: 4.1
Aroma: 3.5
Looks: 4.5
Heat: 4.3
Label: 3.6

Label:

I like this label the best out of all the of the Mad Dog 357 sauces currently available. It had solid composition on the front of the label, and the text is easy to read on the side. All the silver coloring is reflective; rotate the bottle and the skull at the bottom, with its red eye, appears as if discovered by a flashlight in a dark cave.

Looks:

It's a dull brownish-red and pours with a finely pureed texture; there are small black specks amongst the fine red pulp. The viscosity is almost perfect; it is not too runny or gelatinous.

Aroma:

It will burn your nostrils a little, but you can tell it packs a little punch. I get mostly the vinegar, and a hint of sweetness and fresh ingredients (natural).

Taste:

The first thing I taste is the sweetness. There is a thin-sugary sort of taste on the tip and sides of the tongue, followed by the roll of heat. This is one of the more pleasant tasting ghost chili sauces I have tried. I don't get a whole lot of depth to the flavor; it's mostly an undefined likeable sweetness + heat, with a hint of onion and some spices.

Heat:

This is using real ghost chiles and no extract. Note that it does pour straight from the bottle, not with a nozzle for drops. It is a real face-warming heat that is just enough for me to sparingly use a few heavy drops with a meal. Tasting half a spoonful I started to sweat a little, but I didn't find the burn afterwards unbearable .

Overall:

Not to be confused with the 357 Ghost Pepper Sauce, the Pure Ghost sauce advertises itself as not having "even the whisper of an extract" (capsaicin); it's made with the real heat from ghost chiles (aka bhut jolokia). Maybe I am biased from its description, but it really does have a natural taste in that regard. I've tried some ghost chili sauces that used extract that have tasted artificial. I think this is a solid sauce that offers just enough heat for your average chilihead, and where the sweetness is coming from draws my interest. I also used a handful of drops in some black beans on the stove top, along with a few spices, and it turned out excellent; addictive perhaps.