Mad Dog - Ultra Hot BBQ Sauce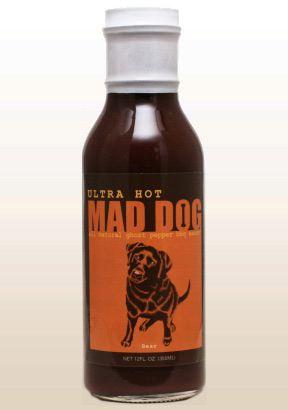 Maker:
Ashley Food Company
Sudbury, MA, United States
Pepper(s):
Bhut Jolokia (Ghost Chili), Peri Peri
Ingredients:
Hickory, Sweet Unsulphered Molasses, Premium California Tomato Paste, Aged Japanese Tamari Soy Sauce, 'Ghost' Pepper Aka Bhut Jolokia, Peri Peri Pepper
Description:
Official:
"Is ultra really the ultimate? When it comes to the intense BBQ experience found in Mad Dog Ultra Hot BBQ Sauce, absolutely. It takes our award winning Mad Dog Recipe to a whole new level by combining the world's hottest pepper, the 'Ghost' aka Bhut Jolokia, with the legendary Peri Peri Pepper. The result — ultra hot, ultra amazing BBQ sauce worth sharing and savoring with friends."