Marie Sharp's - Hot Habanero Pepper Sauce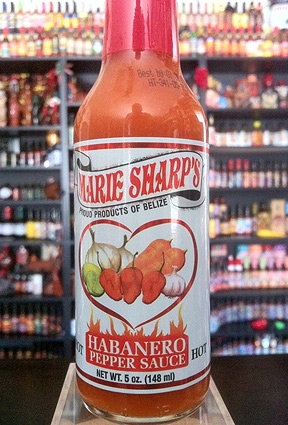 Maker:
Marie Sharp's
Belize
Pepper(s):
Habanero
Ingredients:
Select Red Habanero Peppers, Fresh Carrots, Onions, Lime Juice, Vinegar, Garlic, Salt
Description:
Official:
"Unique Carrot Based Blend achieves the perfect balance between Flavor and Heat. Once you try marie sharps you will come back for more."
User Reviews
A+4.7

Reviewed by leggett83 on September 6th, 2021

Taste: 5
Aroma: 4.9
Looks: 4.9
Heat: 3.1
Label: 4

Label:

Nice label. Easy to recognize.

Looks:

Bright red with some thickness

Aroma:

Wonderful aroma. I can smell the habanero peppers!

Taste:

Like many hot sauces from the Caribbean, Marie Sharp's is carrot based. The heat is just right, but the taste is what makes this sauce special. This is my go to sauce at the super market.

Heat:

Just the right amount of heat in my book. It might be too hot for some tenderfoot, but should please most.

Overall:

I love the taste of a habanero. This sauce has plenty of that taste with a nice bit of heat. If you are tired of Louisiana or Mexican hot sauces, give Marie Sharp's a try!