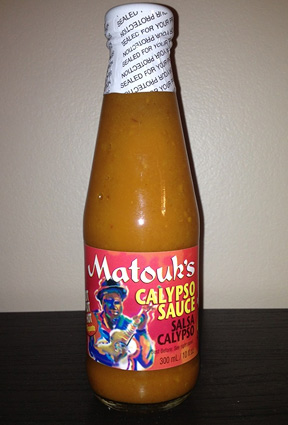 Maker:
National Canners Limited
Arima, Trinidad and Tobago
Pepper(s):
Scotch Bonnet
Ingredients:
Aged Pickled Scotch Bonnet Peppers (pepper, Vinegar, Salt), Water, Vinegar, Prepared Mustard (vinegar, Mustard, Salt, Spices), Cane Sugar, Salt, Modified Corn Starch, Onion Powder, Garlic Powder, Celery Seed, Potassium Sorbate (preservative), Soybean Oil, Xanthan Gum, FD&C Yellow #5
Description:
Official:
"Salsa Calypso. HOT HOT HOT Piquante"
User Reviews
B3.5

Reviewed by floresFX on July 17th, 2012

Taste: 3.8
Aroma: 3.5
Looks: 2.5
Heat: 3.5
Label: 2.5

Label:

Interesting "Caribbean-style" caricature painting of a man jamming on a guitar. Other than that, the label is not too fancy with basic text.

Looks:

Golden yellow-orange color. Gravy-like consistency with visible (whole) seed and spice content.

Aroma:

Slightly sweet. Reminiscent of relish with a hint of hot spices on the nose.

Taste:

The initial sweetness, as noted in the smell, is overtaken by a vinegary pickled taste upon consumption. Gradually followed by the heat of the peppers. Notes of salt flavor and garlic linger on the finish.

Heat:

Comes on steadily. Gentle at first, followed by definite intensity only magnified by temperature of the meal. The burn stayed with me long after each bite, and indiscriminately cleared my sinuses.

Overall:

This was a solid sauce for me. Although seemingly simple, this only adds to the sauces versatility as it went well with virtually everything I tried it with (meats, fish, vegetables, rice). I'll definitely be referring back to this sauce time and time again.