Nando's - Extra Hot Peri Peri Sauce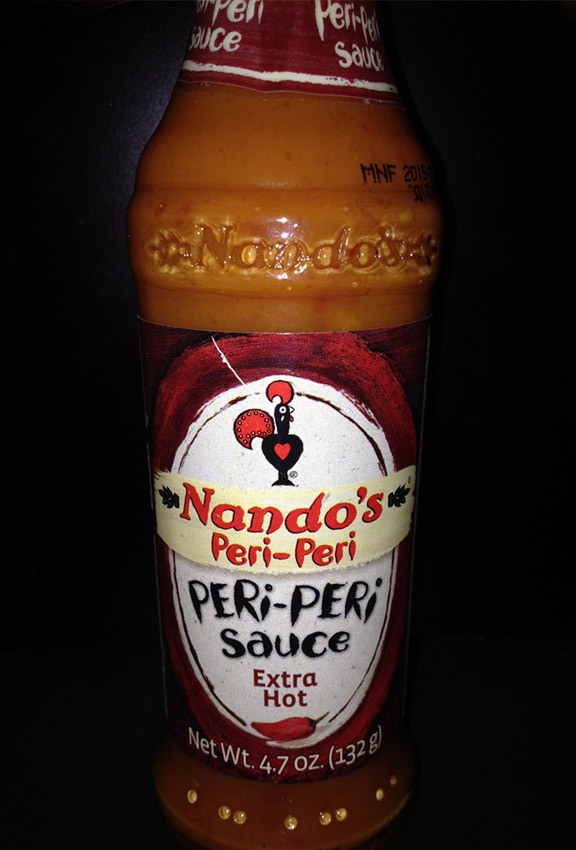 Maker:
Nando's Sauces
Johannesburg, South Africa
Pepper(s):
Peri Peri, Serrano
Ingredients:
Water, White Vinegar, Salt, Lemon, Spices (including African Bird's Eye Chilli), Serrano Chilli, Onion, Vegetable Oil (Sunflower Seeds), Xanthan Gum, Propylene Glycol, Alginate, Garlic, Calcium Disodium EDTA
Description:
Official:
"If it's a serious amount of heat and flavor you're after, Extra Hot PERi-PERi will spice things up big time!"
User Reviews
A-4.0

Reviewed by chiligeorge on October 2nd, 2015

Taste: 4.4
Aroma: 3.7
Looks: 4
Heat: 3.5
Label: 4.1

Label:

Ahh, the classic Nando's label. Always a treat to read and to see the heat meter on the back shaped as a pepper. Nice usage of colour, not too much though which is nice.

Looks:

Bright orange to start. When mixed, especially in rice, it turns the food a pale yellow, which i like. Consistency is chunky and manageable. Easy to put portions into your food. Easy to mix also.

Aroma:

Smells slightly of lemon with a garlic tone and a vinegary finish. Smelling it gives you imagination on what you would put this on, tasting it and thinking that it will go well either way. Smell is that of the original and the mild and all the other nando's chili there are. Very adaptable smell.

Taste:

As the site suggested. Goes well with chicken. Tastes full and bold flavours shine through, like that lemony kick. The piri piri pepper constantly rings through the sauce giving a nice, subtle kick of spice. Its a very nice sauce for marinating.

Heat:

Hot, yes...... to mere mortals. I (bloke who is more susceptible to heat than others), however, regard this as not really hot. If you are a chili head, this isnt really hot. Very good heat for a commercial sauce however. Real smooth kick to the chili chap, strong sustained burn to the regular eater.

Overall:

You cant beat the universal adaptable nature of this flavoursome sauce. It works well with pretty much everything, even Chinese. Ive tried this on my rice with tuna and it worked perfectly. I tried this on drumsticks, also very well. I sometimes marinate with this and maybe put this in my Bolognese. You will know the taste of this sauce when someone puts this sauce in a bottle with no label.