Nando's - Hot Peri Peri Pepper Sauce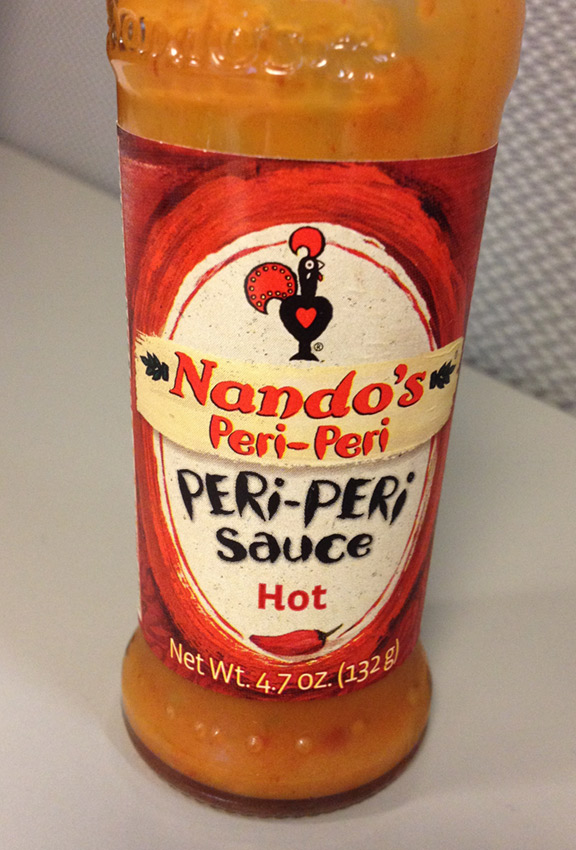 B+

3.7

/

5

BASED ON

2

REVIEWS
Maker:
Nando's Sauces
South Africa
Pepper(s):
Cayenne, Peri Peri, Serrano
Ingredients:
Water, Vinegar, Onion Pieces, Lemon Puree, Salt, Cayenne Pepper, Paprika, Serrano Peppers, African Birds Eye Peppers, Sunflower Oil, Garlic Pieces, Xanthan Gum
Description:
Official:
"South African hot sauce at its finest."
User Reviews
B3.4

Reviewed by KevinK on July 22nd, 2018

Taste: 3.3
Aroma: 5
Looks: 4.2
Heat: 2.5
Label: 4.5

Label:

Cool font and rooster on the front gives you an idea of what you should be using this on...*hint hint*. Nothing to really stand out however.

Looks:

Nice smooth consistency, thinner than ketchup, thicker than Tabasco or Tapatio. Wish it was just slightly thicker but that's personal preference.

Aroma:

Unique smell!! Instant notes of citrus, garlic, and onion. Seriously delicious smelling.

Taste:

Lemon. Lemon. Lemon. That is the first thing you'll be tasting. Sour citrus. Very delicious and refreshing but Im torn here....I LOVE the flavor of this sauce by itself, but it is not a versatile sauce at all in my opinion. This pairs extremely well with chicken, fish, and tortilla chips. It pairs terribly with pizza and eggs for example. I wish they would classify this as a meat marinade rather than a hot sauce.

Heat:

Nothing terribly hot here boys and girls. Probably the heat level of a medium hot wing. I didn't break a sweat on this one. Advertised as hot, but I wouldn't call it that.

Overall:

I would call this an absolutely amazing sauce for something like fish or chicken (of course), but you should be aware that it is not a great sauce for other items unless you enjoy lemon juice on your eggs, pizza, and sandwiches. I dont however. For a protein only hot sauce, it has amazing BIG flavor however. Very different.

A-4.0

Reviewed by Thurston on August 10th, 2015

Taste: 4
Aroma: 4
Looks: 4
Heat: 3.9
Label: 3.8

Label:

Shades of red and white with a font that is slightly askew. A fun little rooster sits at the top with what I assume is an African Birds Eye chili for a tail.

Looks:

An attractive reddish orange with visible chili seeds and and red flecks of peppers. Thick with some smatterings of chunkiness throughout.

Aroma:

A bright, vibrant smell. Pleasant hints of ripe peppers with an appealing fruitiness. Subtle undercurrent of tartness and faint breeze of heat.

Taste:

A delicious blend of spices, most of which I can't quite place. Some red pepper fruitiness gives way to garlic, onion, and a pleasing tartness. Notes of lemon. Note overly vinegary. Tastes very fresh.

Heat:

Upon tasting, the heat waits a few beats before blooming quickly in the middle of the mouth. Pleasantly intense initial burst that quickly mellows to a lingering tingle on the middle tongue and roofh of the mouth.

Overall:

A delicious everyday sauce. Enough heat to provide some kick but in no way over powering. A good sauce for burgeoning hot sauce aficionados for when they are ready to move on from the usual vinegar based cayenne sauces. Excellent when paired with food. Great on tacos, sandwiches, rice dishes and even as a wasabi substitute with sushi.