Nando's - Medium Peri Peri Pepper Sauce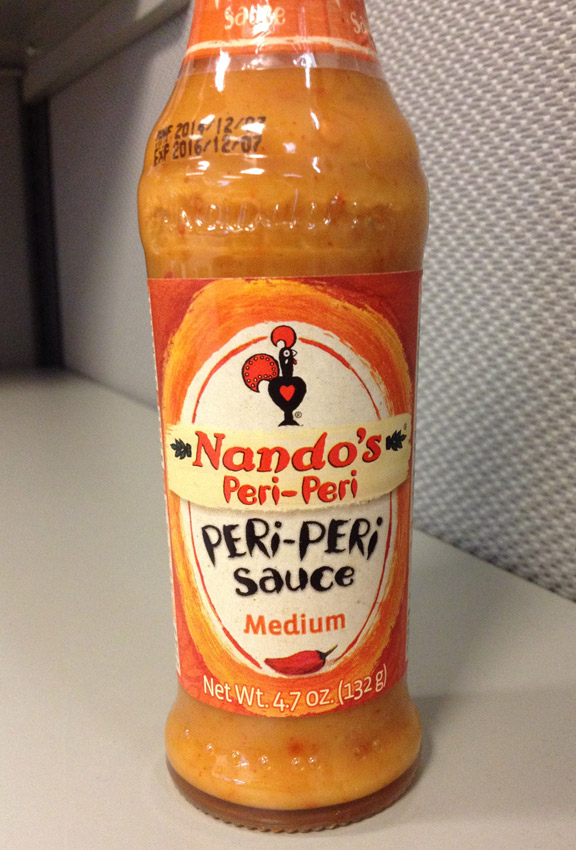 A-

4.2

/

5

BASED ON

2

REVIEWS
Maker:
Nando's Sauces
South Africa
Pepper(s):
Peri Peri
Ingredients:
Peri Peri Peppers
Description:
Official:
"South African hotsauce at its finest."
User Reviews
A4.6

Reviewed by Nick on March 7th, 2017

Taste: 5
Aroma: 4.5
Looks: 4.3
Heat: 5
Label: 4.2

Label:

The classic cheeky labeling. I love me a cheeky nando's.

Looks:

Thick sauce with a cheeky sheen to it. Orange and quite cheeky if you ask me.

Aroma:

Vinegar and peppery aroma. You can also detect a slight citrus scent.

Taste:

Tastes like a great sauce. Hints of garlic and lime. Quite a cheeky flavor if you ask me. Yum yum yum

Heat:

Not too spicy but at the perfect level where you can get the heat and all the flavors while non are too overpowering.

Overall:

This is the most cheeky sauce money can buy. It is definitely one of my favorites because it is pretty rare in America. It goes great on chicken as that is what it was made for I believe. Just roast up some dry marinaded chicken with classic spices and use this to finish it off. Cheeky 10/10 times

B+3.7

Reviewed by chiligeorge on May 6th, 2015

Taste: 4.6
Aroma: 4.1
Looks: 4
Heat: 2.3
Label: 5

Label:

The label will always look good on Nando's sauces. Looks authentic and homemade. Nice label color.

Looks:

A think orange that will be easily seen when you mix it with rice, or pasta, or spread on steaks or whatever.

Aroma:

Full of flavor. Unmistakable smell of that chili and a hint of lime.

Taste:

Full, bold flavor that will please everyone. Goes well with everything and will suit all things. Heck, i even put this in my salad, heck, chuck some of this on my banana bread, no problems mate (im aussie).

Heat:

The product says medium, so im believing its medium to normal people and not chili lovers like me. I personally would like it hotter to taste more fire, but i guess its ok for a medium.

Overall:

The taste is amazing. For the normal people, this would be next to the perfect hot sauce for anything. Love it, its just not hot enough for me.