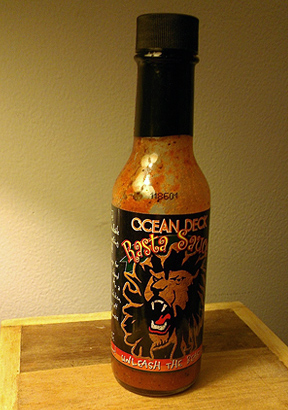 B+

3.9

/

5

BASED ON

2

REVIEWS
Maker:
The Ocean Deck
Daytona Beach, FL, United States
Pepper(s):
Habanero, Trinidad Scorpion
Ingredients:
Peppers, Vinegar, Salt, Garlic, Onion, Black Pepper, Cayenne Pepper, Celery Salt, Mustard, Bay Leaves, Allspice, Ginger, Mace, Cardamom, Paprika, Spices
Description:
Official:
"Warning! May cause uncontrollable urges to douse everything you eat with it!! Insatiable cravings for its hot and spicy island flavors may occur. As a marinade- seafood, chicken & pork will jump off the plate at the mere mention of it.

The King of Flavor! Unleash the Beast!"
User Reviews
A+5.0

Reviewed by Xsn0w on April 10th, 2015

Taste: 5
Aroma: 5
Looks: 5
Heat: 3
Label: 4

Label:

The label is completely sufficient to let me know what it is and where it came from, and what it is made of.

Looks:

This sauce looks amazing, it is grainy and viscous and totally unique in appearance.

Aroma:

Absolutely intoxicating. It does not assault the olfactory sense, but it gives you a great idea of what it is going to taste like.

Taste:

This is the best hot sauce I have found, in my life. Seriously. I love sriracha, I have been to the Pepper Palace in Gatlinburg (and tried the "hottest sauce in the Universe"), and sampled many hot sauces while visiting the states of Louisianna, Texas, and incredibly, a tiki restaurant from my home state of Florida wins with the best hot sauce I have ever found. To say I am addicted is a vast understatement, I empty a bottle a week easy, using it in my eggs and breakfast burritos every single morning and then my steak or chicken or pizza or stir fry in the evening. It goes well with basically anything you can imagine. My bottle of Sriracha is sitting in my fridge barely used anymore as this has replaced it almost entirely for the same applications.

Heat:

I believe it deserves a solid 3 in the heat department, It is balanced with flavor and heat. At this level of spice, it will cause beads of sweat, but no inferno in my mouth. To slow down my rate of consumption, I got a bottle of the hotter version, "Hot Hot Hot" Rasta Sauce and that was a good 4.5, if you want the same flavor and more heat, I suggest that version. Overall, I prefer the 3 because I can eat more of it. I REALLY love this stuff.

Overall:

Amazeballs. Highly recommend everyone with Hot Sauce Fever to try this one. I am sure its not for everyone but for me, it is the bees knees.

C+2.8

Reviewed by HSF on May 1st, 2012

Taste: 2.8
Aroma: 3
Looks: 3.9
Heat: 2.8
Label: 2.8

Label:

On the front, we have the Lion of Judah roaring in our face on a black backdrop, framed by some Rastafarian red, gold, and yellow stripes. I like the logo itself and think it is a strong symbol. The type around the edge feels a little cheap and could be more cohesive and professional. The description is done in a gritty script font that isn't the easiest to read. Overall I'm left not impressed, but not too offended by it.

Looks:

The sauce is a dark maroon, with abundant black and small pale chunks. It looks fresh. It's fairly thick and pours slowly into small clumps. It holds together fairly well and is not very fluid.

Aroma:

It has a tangy mustardy smell, with a medium sense of the vinegar. You get a sense of the pepper, paprika, and spices used. One is standing out more than the others, which I can't identify.

Taste:

It has a little grit to it, which I enjoyed. I like when a hot sauce it not too diluted. It did have a tad of a "sandy" texture. There is an initial sweetness, very salty, and then hits you with the black pepper, cayenne, and spices. The spices are perhaps too strong. I want to taste more of the fresh chile ingredient and other flavors, and less of the spice rack. I did use most of it up on various foods, and think that it will work in a pinch, but not as the crowd favorite.

Heat:

The Rasta sauce can be applied almost generously, as the heat is towards the medium range. You won't see anyone fanning their face on this one. The heat was masked when I used with a few types of food. There definitely is a light peppery burn that lingers at the top of the mouth.

Overall:

I ended up using this sauce on all kinds of food, and it paired well enough with breaded chicken and meat. For the first few days, it took condiment precedence at meals. After trying it again later, I felt that was relying too much on the spices, and needed some more depth to the flavor. It got mostly used up and isn't a bad sauce, but I probably would try something else before buying another.