Professor Phardtpounder's Colon Cleaner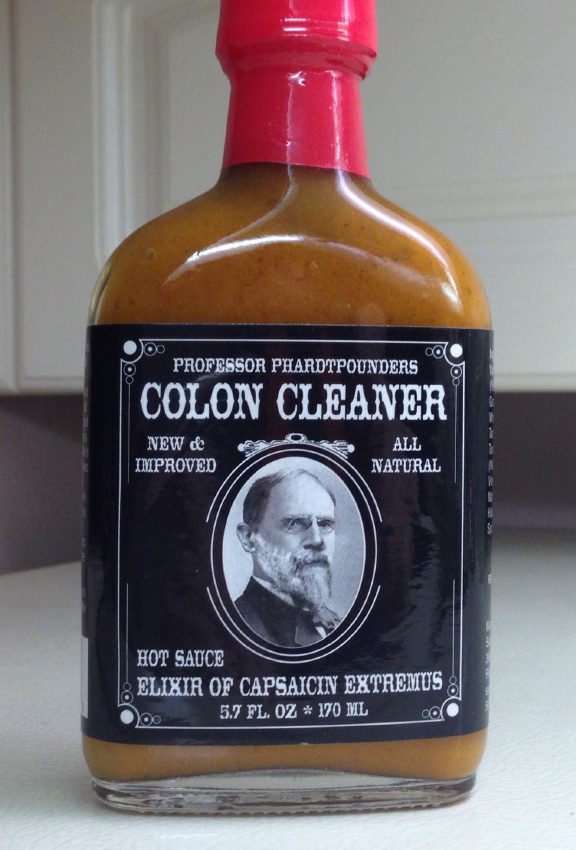 Maker:
Sauce Crafters Inc.
Riviera Beach, FL, United States
Pepper(s):
Habanero
Ingredients:
Red Wine Vinegar, Dijon Mustard (Distilled Vinegar, Water, #1 Grade Mustard Seed, Salt, White Wine, Citric Acid, Tartaric Acid, Spices And Turmeric), Yellow Mustard (Water, Mustard Seed, Vinegar, Salt, Turmeric), Natural Sugar, Onions, Habanero Peppers, Garlic, Spices, Xanthan Gum
Description:
Official:
"Elixir of Capsaicin Extremus.
People say our new & improved all natural Colon Cleaner Hot Sauce works better than the original formula. They say that it cures the common cold and even the flu! One old man said that after he ate some with his eggs, he remembered his wife's name. Others say it just makes them feel good all over. We don't know if these claims are true but what we do know that it is absolutely delicious, it's all natural, with no preservatives and made with pride right here in the USA.
Remember, everybody knows somebody that needs a bottle of Colon Cleaner."
User Reviews
B3.5

Reviewed by ChiliChomper on October 28th, 2014

Taste: 4
Aroma: 4
Looks: 4.5
Heat: 2.5
Label: 5

Label:

Classic 19th century design. Humorous. Bottle has a cool flask shape.

Looks:

A pleasant orange-brown sauce. Substantial, will not run or separate. Small chunks of Habanero and garlic with visible flecks of spice.

Aroma:

Mustard scent overpowers the scent of Habanero.

Taste:

Starts sweet & sour with a mustard kick. Finishes with a mild Habanero burn.

Heat:

Mild for a Habanero sauce. If you're looking for a serious Habanero punch, this isn't the sauce.

Overall:

3.5 / B. Add .5 if you're a mustard head. Add another few tenths if you don't like a serious burn. Very flavorful. Tacos were the wrong test vehicle. I could see this sauce being an incredible wing sauce, tossed in a bowl with some melted butter. I found the sauces titular claim to be authentic - this stuff works.