Puckerbutt Pepper Co. - Chocolate Reaper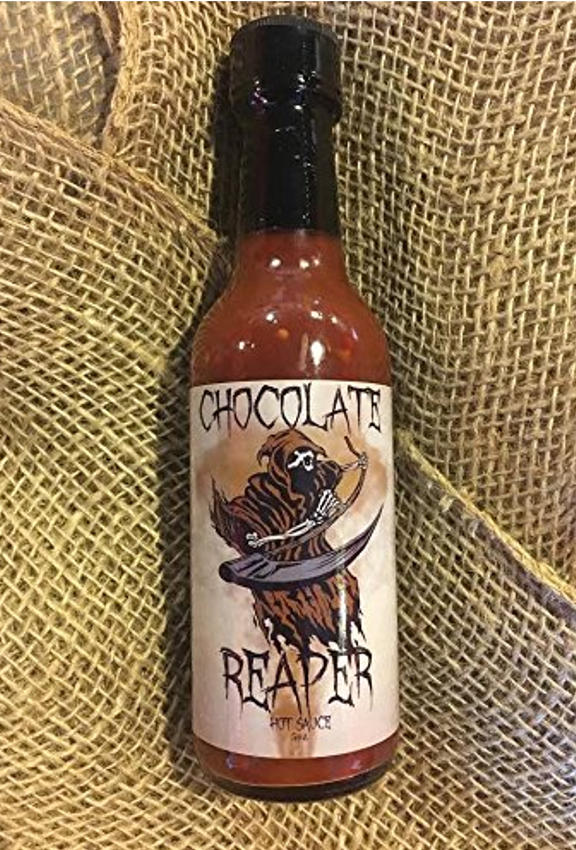 Maker:
Puckerbutt Pepper Company
Fort Mill, SC, United States
Pepper(s):
Carolina Reaper
Ingredients:
Peppers And Vinegar.
Description:
Official:
"From the home of the World's hottest pepper, - Smokin' Ed's Carolina Reaper®- comes a new offering. Chocolate Reaper is a delightful variation on the Carolina Reaper with darker undertones, and a smoldering after burn."
User Reviews
B+3.9

Reviewed by Kebiko on June 29th, 2019

Taste: 3.6
Aroma: 3.9
Looks: 4.3
Heat: 4.4
Label: 4.3

Label:

Label graphic adequately depicts what lies in wait inside a bottle of this stuff!

Looks:

Blood red. Mashy and some chunks. Pours nice and freely.

Aroma:

Can you say pepper? You will be after sniff testing this. Chocolate Reaper comes through, loud and clear!

Taste:

It's basically pepper mash in a bottle with a strong Reaper taste. If you do not like pure pepper flavor, this sauce may not be for you. Adding small amounts to dished like soups, stews and chilis may cut down the pepper taste a bit but the burn will get you!

Heat:

Fire in the bottle. Right off the bat it hammers the mouth with heat they quickly works its way to your throat. Puckerbutt delivers once again!

Overall:

Overall, this is a great sauce for the serious heat seeker. Its simply 2 ingredients and the flavor of the Reaper is dominant. If you prefer blended sauces with fruits and spices, this may not be the sauce for you. But, if you want to add fire and Reaper flavor to any dish, this gets the job done. Extract level heat in this 2-ingredient sauce! Good stuff!!!