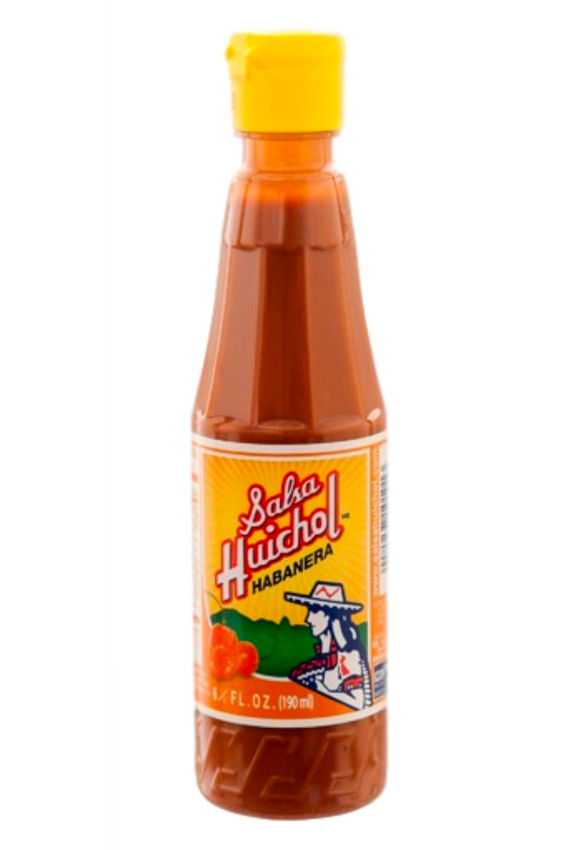 Maker:
Salsa Huichol
Xalisco, Mexico
Pepper(s):
Habanero
Ingredients:
Water, Chilipeppers, Habanero, Salt, Acetic Acid, Spices, Xanthan Gum, Sodium Benzoate
Description:
Official:
""Habanera" hot sauce."
User Reviews
D-1.0

Reviewed by CzechStokeCityFan on July 15th, 2016

Taste: 1
Aroma: 1
Looks: 2
Heat: 1
Label: 1

Label:

Basic cartoon figure of a farmer carrying a basket of peppers, along with a photo of two Habanero peppers on a yellow(sun), green(hills) and orange background.

Looks:

Very smooth and somewhat thin overall, although this makes it easy to pour. It had a bit of brown hue to the orange color which took it outside of the usual carrot orange that is so common.

Aroma:

Nothing interesting here...it reminded me of the extra hot sauce aroma one gets from the little packets at cheaper fast food restaurants.

Taste:

One word...cheap. I have to question the quality of the ingredients used. This is exactly what one would expect from a fast food restaurant, either in a bottle on the table, or in a tear open packet.

Heat:

No burn to this one...just a slightly sharp acidic taste which disappears quickly.

Overall:

I found this one in the lengthy row of hot sauces at a Vallarta Supermarket in California. I picked it out from amongst the rest because it only had one preservative, as many of the others had multiples. It's one saving grace was the price...less than $1.50 for 6 1/2 ounces. Skip this one unless you have something very bland on your plate.