Skipper's Treat Sweet Jalapeno Sauce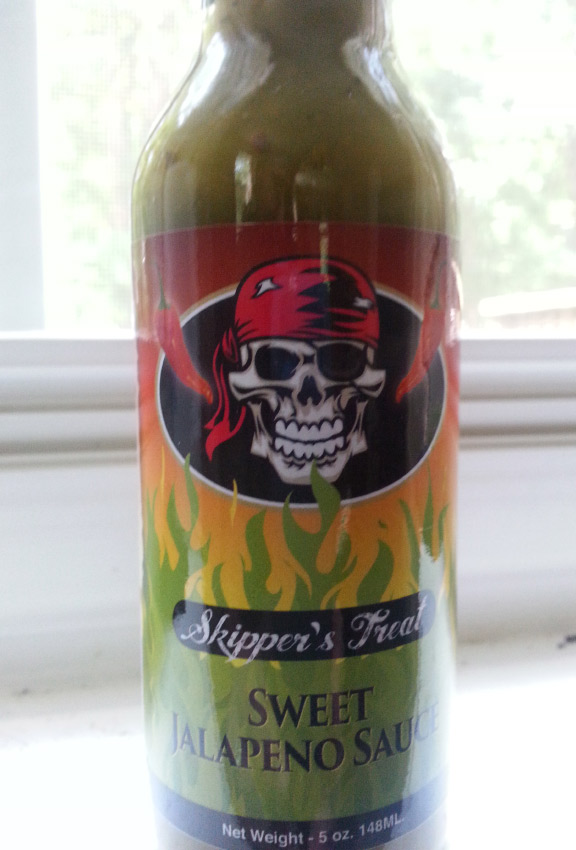 Maker:
Sauce Crafters Inc.
Riviera Beach, FL, United States
Pepper(s):
Jalapeño
Ingredients:
Jalapeno, Onion, Sugar, Water, Vinegar, Salt, Garlic, Spices, Xanthan Gum
Description:
Official:
"Skippers handcrafted sweet sauce will rock your boat with that extra little kick that jalapenos always bring to the party! The sauce features just the right balance of sweet, hot and wow. Skipper's makes a big splash at any meal. Use it to liven up burgers, hot dogs, tuna or chicken salad, barbecued meats or Mexican food."
User Reviews
A+5.0

Reviewed by Onfirebabies on August 5th, 2014

Taste: 5
Aroma: 4.5
Looks: 3
Heat: 3
Label: 2.5

Label:

A pseudo jolly Roger with little chili peppers.

Looks:

Fairly chunky sauce. Bits of spice and skin are evident.

Aroma:

Unmistakable Jalapeno with some vinegar. A really pleasant smelling sauce.

Taste:

Golly willikers this stuff is tasty as heck! It has a great sweetness to it and it packs a punch as well. Onion and garlic are perfectly blended in there. As far as sweet sauces go, this is the best I have ever tasted.

Heat:

It has got a punch. Nothing that will stick with you, or melt your face off.

Overall:

I love this sauce. It is unique and has an awesome flavor. It would not be a regular sauce of mine, but for anything that you could imagine needing a little sweetness and heat, look no further!