South Devon Chilli Farm - Scorpion Chilli Sauce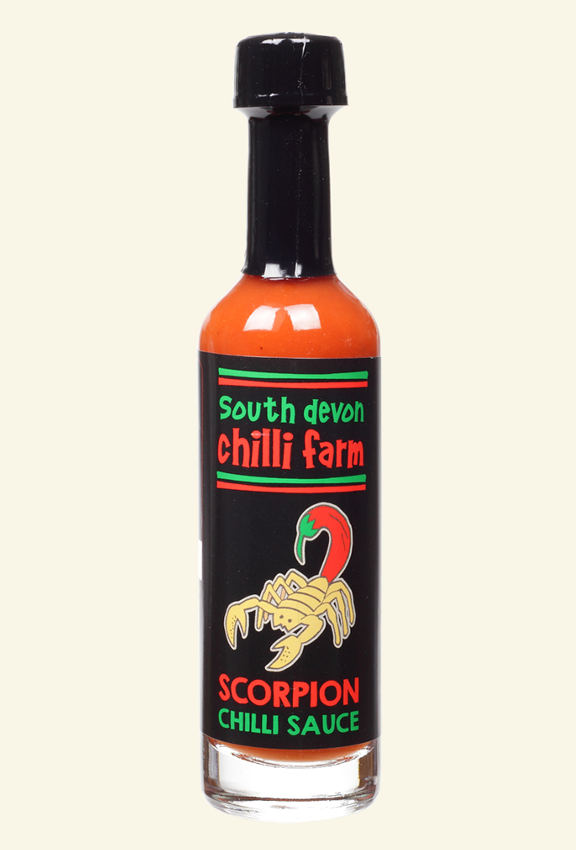 Maker:
South Devon Chilli Farm
South Devon, United Kingdom
Pepper(s):
Trinidad Scorpion
SHU
:

700,000
Ingredients:
Fresh Scorpion Chillies, Spirit Vinegar, Salt.
Description:
Official:
"The Scorpion Chilli Sauce is one of our new range of Super chilli sauces. (launched in Dec 2015). Like its namesake this sauce will Sting you! Packaged in a pocket-sized bottle as you only need one drop for extreme heat. If you love Hot Chillies you'll love this sauce, just go steady when you try it until you know how much you need to reach the perfect heat.

This extremely hot and fruity sauce is made with just fresh Scorpion chillies, spirit vinegar and salt. The Scorpion chilli has been measured at just over 1.4 million on the Scoville Heat Unit scale. If you still want something hotter have a look at the Reaper Chilli Sauce, the hottest sauce in this range."
User Reviews
A-4.2

Reviewed by Martins on February 13th, 2017

Taste: 4.2
Aroma: 3.5
Looks: 4
Heat: 4.9
Label: 4

Label:

The label is very simple and appealing. It's cool because they have a graphic identity that is consistent in all their products!

Looks:

It looks good, but I personally prefer thicker sauces... This is too liquid for my personal taste. It's not too liquid, but it's just not thick enough.

Aroma:

Hot sauces are not the greatest smelling products ever... This is no exception. But here you have the smell of the chillies and the vinegar at their purest form. No artificial stuff.

Taste:

It tastes great... Until the heat totally wrecks your tong. But initially you can feel the chillies perfectly

Heat:

It's a Scorpion Chilli Sauce. You'll hurt. You'll sweat. You'll cry. You'll love it.

Overall:

This is a great extreme heat product and the ingredients are all natural which just makes it better! It's not the type of product you want to use on family dinner dishes... But it's awesome for a fun dinner with friends, specially if they are hot sauce lovers too... Check the video review -> https://www.youtube.com/watch?v=eAzM9_H5eOQ