Tabanero - Hot Sauce Pìcante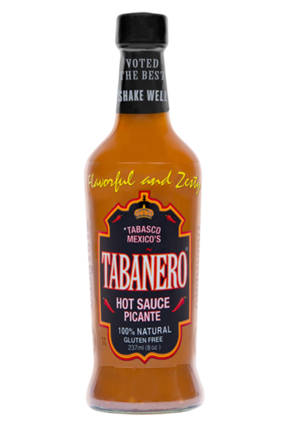 A

4.3

/

5

BASED ON

3

REVIEWS
Maker:
Tabanero
United States
SHU
:

3,000
Ingredients:
Select Habanero Peppers, Carrots, Onions, Key Lime Juice, Agave Nectar, Garlic, Salt, Grapefruit Seed Extract
Description:
Official:
"In pursuit of the most flavorful, All Natural & downright Best Hot Sauce in the world, we have found ourselves in the fertile fields of Tabasco, Mexico; which receives the most rainfall in all of Mexico. Our team of hot sauce aficionados started the quest for the best hot sauce in the world back in 2004. This journey brought us to the Yucatan Peninsula, home of the Mayans. We were drawn to the state of Tabasco where we found the finest ingredients Mexico had to offer. A perfect blend of flavorful ingredients created a taste that knocked our socks off. Our excitement was bubbling as we were getting ready to start production when a major flood in 2007 decimated the region of Tabasco, affecting over 1 million people and washing away the crops that were to be Tabanero! We provided support to the region, to help the flood victims rebuild their lives and a few years later Tabanero was ready to make its debut! Tabanero's delicate balance of spice and flavor provides a "kick" but does not burn or overshadow your dish. There is no vinegar taste or cheap fillers in Tabanero making the quality and consistency of Tabanero one of a kind. We are proud to present our 100% All Natural hot sauce which will accent and spice up any dish, with a flavorful zest!"
User Reviews
A4.5

Reviewed by JonM on October 8th, 2013

Taste: 4.8
Aroma: 4
Looks: 3.7
Heat: 3
Label: 4.5

Label:

I really really like the label on this sauce. It's nicely done, very professional, and easy to read.

Looks:

Looks very good. You can tell that fresh ingredients were used. The sauce is like a puree, as opposed to a straight liquid sauce.

Aroma:

Sweet and delicious. It makes my mouth water.

Taste:

Delicious. It doesn't have the typical vinegar taste, but a fully bodied flavor with light heat. This sauce can go with everything - literally. Very fresh tasting, you can tell the quality.

Heat:

It's a light heat, not going to lie. But that's alright. I won't be grabbing the Tabanero when I'm looking for a crazy burn, but it's amazing and is a PERFECT general use sauce when you want to spice up pretty much anything. It's a must have.

Overall:

It's a solid sauce with unmatched freshness and flavor. It's worth getting and having on hand for pretty much any dish.

A-4.0

Reviewed by HSF on September 26th, 2013

Taste: 4
Aroma: 3.8
Looks: 4.5
Heat: 3
Label: 4.8

Label:

Really classy and professional labeling, great logo, and easy to read. Unique tapered bottle.

Looks:

Make sure to shake it up beforehand. Has a smooth pour with a fine puree of ingredients. It's mostly a single color, an orange, orange/red, with some transparent ingredients.

Aroma:

A sweet smell (agave?), and a typical vinegar that is not overpowering. It smells fresh and appetizing.

Taste:

There is a little sweet taste, somewhat unique, and not too strong of a flavor. There's a natural vegetable taste with some of the carrot detectable, in addition to the peppers themselves. I see on their ingredients and description that it's using agave nectar for its "subtle sweetness".

Heat:

The heat spreads on the tongue, with a sharp little kick. I can feel a little warming on the neck and face, but I'm not taken aback or searching for a drink of milk. The lingering heat isn't too noticeable.

Overall:

This an excellent general use sauce that I've been using with a variety of foods. With the flavor not being too strong, it adds versatility, while maybe the taste buds are not terribly intrigued. The flavor is sweet and subtle; it won't overwhelm your food, and there's just enough heat, without bring you to tears.

A4.5

Reviewed by tabanero on April 23rd, 2013

Taste: 4.9
Aroma: 4.9
Looks: 4.1
Heat: 2.5
Label: 3

Label:

The labeling is pretty straightforward. It reminds me of classic American staple products. It's not flashy or in your face.

Looks:

The sauce looks like a salsa-ish product. It's more orange than most hot sauces. The texture is smooth and less dense.

Aroma:

The smell is amazing! I love that it's not too intoxicating. It's subtle, recognizable and a bit like Cholula.

Taste:

The taste is one-of-a-kind. It has a kick that comes in after your food is swallowed, however it's mild enough to be put on everything.

Heat:

Mild heat. Nothing like the big boys competing over who has the highest Scoville rating.

Overall:

I love this hot sauce and I would recommend it to anyone. I like how I can add ample amounts of it to my favorite foods, and get all the flavor out of it, without making it instantly spicy.