TABASCO® Chipotle Pepper Sauce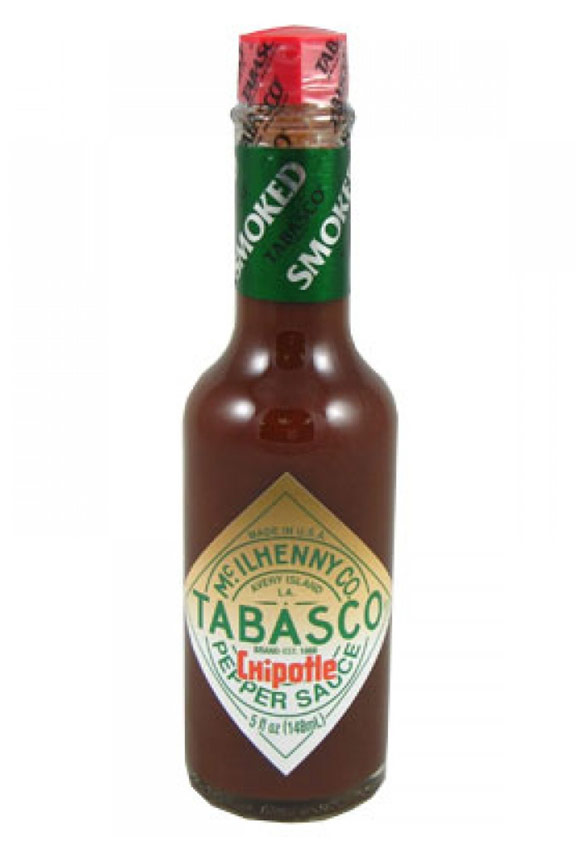 A-

4.2

/

5

BASED ON

2

REVIEWS
Maker:
McIlhenny Company
Avery Island, LA, United States
Pepper(s):
Jalapeño, Chipotle
SHU
:

2,000
Ingredients:
Chipotle Peppers (25-30%), Distilled Vinegar (wheat), Water, Salt, Sugar, Onion Powder, Garlic Powder, Spices, Natural Flavour, Tabasco Brand Pepper Pulp (distilled Vinegar (wheat), Red Pepper, Salt)
Description:
Official:
"TABASCO brand chipotle pepper sauce is made from red jalapeno pepper dried slowly over smouldering pecan wood and is ideal for pouring on. Perfect for grilling and marinating too."
User Reviews
A4.4

Reviewed by SpicyHashbrowns on August 7th, 2018

Taste: 4.9
Aroma: 4.1
Looks: 4
Heat: 3.1
Label: 4

Label:

Classic Tabasco bottle with differing colors. It's fitting and uniform to the rest of their sauces.

Looks:

Slightly thicker than regular Tabasco, great coloring alluding to its smokiness. Very smooth sauce.

Aroma:

Not overly vinegary like regular Tabasco, it smells Smokey.

Taste:

Smokey sauce with a chipotle kick. I believe it's Tabasco's best flavor. Hispanic cuisine goes great with this stuff.

Heat:

About as hot as Tabasco can get, this is purely flavor focused.

Overall:

This stuff goes great on Mexican food. It's not only great for dashing it on food but it's also great in recipes. Put it in baked beans.

A-4.0

Reviewed by chiligeorge on October 3rd, 2015

Taste: 4.3
Aroma: 5
Looks: 4
Heat: 2.9
Label: 3.5

Label:

Your classic label with all the information on it. I personally like the colour gradient form the top to the bottom. Gives the label a sense of 'flavour'.

Looks:

A cinnamon brown with tiny black dots in the liquid.

Aroma:

A lovely barbecue aroma with very little spice. It is an addicting smell. I can pick out the onion smell which adds a dimension to the sauce. Smells great.

Taste:

Smoked barbecue flavour which i will instantly recognise from the classic buffalo wings. It works spectacularly with meat, adding depth to the already good taste. If only they sold these in bigger bottles.

Heat:

Not the hottest of sauces, but to your average eater, it performs very well. A very flavoursome sauce indeed with many support capabilities. Flavour to heat ratio is a little off, having the taste very strong and the heat very weak.

Overall:

Ive first tried this at a pub restaurant and i was speechless. It tasted exactly what i was looking for all these many years. A bbq oriented chili that works well with everything. Ive put this on sausage rolls and party pies and they all became 'magical'.