TABASCO® Green Jalapeno Pepper Sauce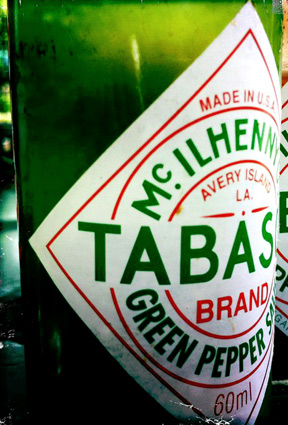 B+

3.9

/

5

BASED ON

3

REVIEWS
Maker:
McIlhenny Company
United States
Pepper(s):
Jalapeño
SHU
:

900
Ingredients:
Distilled Vinegar, Jalapeno Pepper, Water, Salt, Corn Starch, Xanthan Gum, Ascorbic Acid
Description:
Official:
"Add TABASCO® Green Sauce to a whole host of dips and dishes - like guacamole, salsa, tacos and burritos. It's even great in red beans and rice or paella. All because it gives the perfect punch - not too hot, not too mild."
User Reviews
A+5.0

Reviewed by frokeefe42 on October 7th, 2020

Taste: 5
Aroma: 5
Looks: 5
Heat: 1
Label: 5

Label:

It is what it is - traditional Tabasco.

Looks:

At first I didn't care for the consistency, but now, I use the green for flavor. Other considerations faded from my notice. I like green!

Aroma:

Smells flavorful, richer than many others.

Taste:

Tastes as close to the delicious (pile it on) green sauce on enchiladas at my favorite authentic Mexican restaurant. That keeps me going back for more. It's good on fish.

Heat:

Tasty, not hot. It has a pleasing mild warmth.

Overall:

It will always find a space in my larder. The green sauce is a fine supplement to traditional reds.

B-3.1

Reviewed by chiligeorge on May 19th, 2015

Taste: 3.2
Aroma: 2.7
Looks: 3.3
Heat: 2.3
Label: 3

Label:

Obviously you would know its tabasco by looking at the label at any angle. Nothing special, just a well known label.

Looks:

Simply a not so liquidy sauce that is green. Will either entice you or disgust you. A bit sticky. Still easy to mix.

Aroma:

Thick chili aroma with a distant smell of greens

Taste:

Decent taste of what you smell. After taste isn't as good at the initial, but still decent. Reminds me of capsicum.

Heat:

Not much at all. For entry level consumers, I guess its ok.

Overall:

Its a sauce that has its ups and downs. Knowing that its tabasco, people everywhere will find something good about this and I quite like the initial taste of this. Not quite heat though. A good sauce to add to stir frys.

B3.6

Reviewed by Brad on June 8th, 2012

Taste: 3.5
Aroma: 3.6
Looks: 2
Heat: 2.8
Label: 4

Label:

I like the labeling because this is a memorable Sauce. The label is easily recognizable.

Looks:

I don't really like the look, consistency or texture of it. It's an ugly green and has a chunky-ish texture.

Aroma:

Smells similar to how it taste.

Taste:

If you are looking to add a mild spice to your dish I would definitely recommend this. I enjoy it with Chipotle Rice Bowl Dishes.

Heat:

It it not too spicy but definitely adds a kick - which is what I love about it.

Overall:

This is a good mild sauce for non-hot sauce enthusiast. If you are looking to add a mild spice to your dish I would definitely recommend this.