The Pepper Plant - Original California Style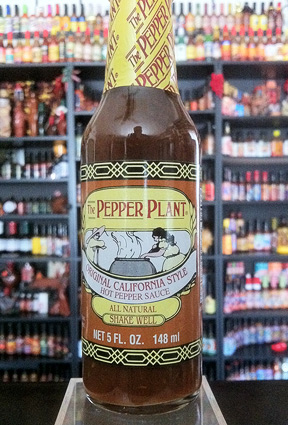 Maker:
The Pepper Plant
CA, United States
Pepper(s):
Jalapeño
Ingredients:
Jalapeno's Puree, Water, Chili Pepper, Dehydrated Garlic, Spice, Onion, Olive Oil, Xanthan Gum
Description:
Official:
"Original California style hot pepper plant sauce."
User Reviews
A+5.0

Reviewed by Kelly on November 4th, 2017

Taste: 5
Aroma: 5
Looks: 5
Heat: 4.2
Label: 5

Label:

With a hot sauce this good, who needs bottle fanfare? The no frills label eludes a sense of simplistic authenticity. It doesn't bother trying to scream at you from the grocery shelf, rather it sits quietly, smoking it's peppers, waiting for those 'in the know' to pluck it like the hidden but perfectly ripe grape from the vine.

Looks:

We've entered the Goldilocks zone here with consistency. A smooth flow slowed by just the right level of texture. Chunk is too harsh a word for the delicate 'flavor buds' that permeate this savory sauce and give it that crave-worthy hearty feel you can almost bite into.

Aroma:

Now we're getting into the (dangerously) addictive quality of this culinary treasure. Go ahead, screw off the top of this unassuming bottle, you can already sense the love that goes into the alchemy of this brew. Pungent but ever inviting, images and sounds of peppers roasting, memories of garlic festivals of years gone by and the bright acidic spark to clarify your dreams of what your next meal could be.

Taste:

No description will do justice to the experience your mind, body and soul has when you let a but if this elixer dance in your mouth. This sauce is ALL about flavor. I've had many a debate with fellow 'pepper-plant-addicted' family members and friends about whether it is the gilroy garlic, the particular harmony between the jalapeño and chili peppers, or some secret component that makes this fast-disappearing blend (we order by the case) stand out from the crowd. Looking at the seemingly straightforward ingredient list offers no real clues to the magic but I like to believe it is infused with faith in humanities ability to rise above our differences and join hands in gratitude that being alive at this time means having the opportunity to spice up our lives with the greatest hit sauce in history.

Heat:

Swipe left now if all you care about is traditional heat. It barely burns your tongue but it sets a blazing fire to your passions.

Overall:

I'll put it this way: As a hot sauce connoisseur, whenever I meet someone who is somehow privy the sacred knowledge of this product, or go to a restaurant where they actually supply it as a free condiment, I feel I am in the company of my culinary coven, a growing community of wise and loving souls, connected by sensory pleasure and hope for the future.