Tres Bien Cajun Cuisine - DTR Sauce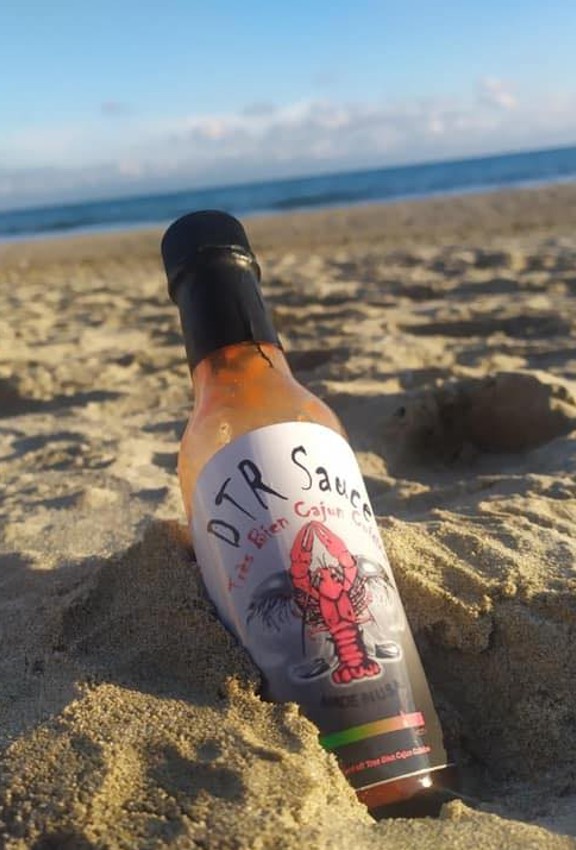 A+

5.0

/

5

BASED ON

2

REVIEWS
Maker:
Tres Bien Cajun Cuisine
Panama City, FL, United States
Pepper(s):
Tabasco, Carolina Reaper
Ingredients:
Red Chili Peppers, Salt, Distilled Water, Distilled Vinegar, Carolina Reaper
Description:
Official:
"@ step process using red chili peppers for flavor and Carolina Reapers to give it a tad more heat than the average store bought Louisiana style hot sauce."
User Reviews
A+5.0

Reviewed by Trey on January 26th, 2021

Taste: 5
Aroma: 5
Looks: 5
Heat: 3
Label: 5

Label:

The label helps to catch your eyes without overwhelming you. A clean design filled with content that eventually leads your eyes to the beautiful hue of the sauce.

Looks:

The color is a light that helps you find the flavor with a surprise. It flows well and never has been too watery or thick. The texture is smooth and rest on the food, holding its composure as it slowly runs.

Aroma:

The scent of Tabasco with a lowkey line of Carolina Reaper. Though Carolina Reaper is the primary pepper, the Tabasco and other seasonings help to blend it to perfection as it fills your nostrils. The tingle, once inhaled, does not cause you to reject as it would be too pungent but draws you in like a warm meal on a cold winters eve.

Taste:

The taste of this sauce is profoundly well-rounded. The sauce immediately accentuates your palate with a moment of smooth heat. Once you swallow, a deep heat begins to arise from your tongue as the Carolina Reaper takes you onto a culinary Journey. It never leaves you wanting anything but more.

Heat:

It has a solid deep heat that doesn't take away from the flavor. The heat adds to the flavor and helps to round it out to an overwhelmingly enjoyable experience. It begins with a well-rounded warmth in the mouth but concludes with a deep enjoyable heat that makes you crave the next bite.

Overall:

This hot sauce is on a next level. The culinary technique, used here, that turned a Carolina Reaper into a delicious and full flavored condiment is pure magic. This sauce will never leave you disappointed but will only have you reaching for it more. Every table should have Tres Bien hot sauce on it and every oyster should have a few drops as well!

A+5.0

Reviewed by Jason on January 26th, 2021

Taste: 5
Aroma: 5
Looks: 5
Heat: 3.4
Label: 5

Label:

The perfect every day sauce!!!

Looks:

The consistency and texture are exactly what youd expect. Nothing off putting.

Aroma:

Great smell! Gets my mouth watering just smelling it!

Taste:

Awesome Louisiana flavor that actually has a punch. It's got that vinegar twang with plenty of cayenne flavor youd expect.

Heat:

The heat is perfect to me. I love the Louisiana flavor, but none of them have enough kick. The reapers in this give it just enough kick to start a sweat!

Overall:

I absolutely love this sause. It's a perfect every day sause for any food.