Tropical Pepper Co. - Scorpion Pepper Hot Sauce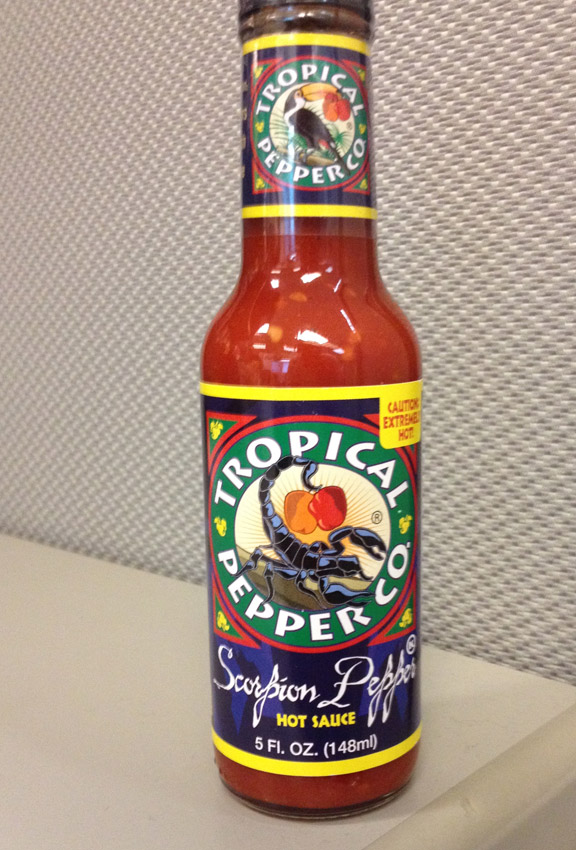 Maker:
Tropical Pepper Co.
Costa Rica
Pepper(s):
Trinidad Scorpion
SHU
:

780,000
Ingredients:
Scorpion Peppers, Water, Salt, Acetic Acid, Xanthan Gum
Description:
Official:
"Unforgiving as the scorpion's sting, this deadly pepper sauce will ignite the fire of your senses."
User Reviews
A+5.0

Reviewed by amanofmanyregrets on July 17th, 2018

Taste: 5
Aroma: 4
Looks: 3.9
Heat: 5
Label: 4

Label:

Colorful and innocuous picture. Properly labeled with warnings of the intense heat it provides.

Looks:

A deep red with seeds and the viscera of the unholy peppers within.

Aroma:

A very pleasing smell, sweet and sharp, a complete misrepresentation of how pleasant this sauce is or treats you.

Taste:

Sublimely balanced in flavor. No smokey or excessive vinegar taste which usually turns me off. Inspired me to put a generous portion on my innocent turkey sandwich. My friends, this ambition is a mistake.

Heat:

Pretty good. Used it to strip the paint off my hot wheels.

Overall:

My friends, this is my first review, and I am writing it the day after my first encounter with this sauce. This saucy red bastard has the sweet welcoming flavor of a habenero blend, with a desirable freshness of taste and hits your palate with the feigning blows of a boxer feeling out his opponent. Then the bell rings for round two your mouth is ablaze and you can hardly think. You wander your kitchen eating cheese off the block while your fiancee groans at you for doing this again. She's no longer amused. You pace and gape like a fish out of water occasionally recovering enough to take another bite out of the sandwich you doused in this hateful brew, still admiring the taste of the sauce before going back to pacing and cheese chomping. And brother, this fight is far from over. Like I said at the beginning, I am writing this the next day. This is a knock down, drag out, b-hole ruining battle that will make you curse and cry and bargain, and lose your faith. 5 Stars. Pretty good.