Valentina - Salsa Muy Picante (Black Label)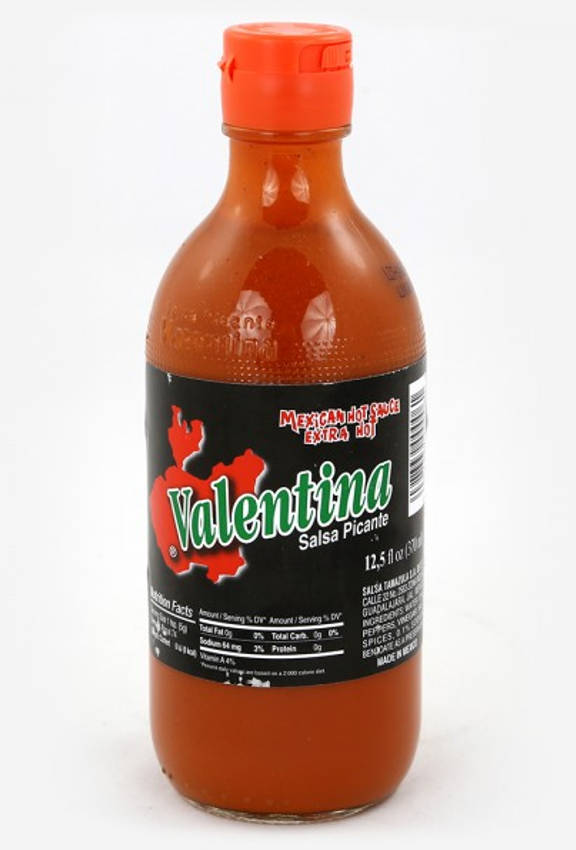 Maker:
Salsa Tamazula
Guadalajara, Mexico
Pepper(s):
Habanero
SHU
:

2,100
Ingredients:
Water, Chili Peppers, Vinegar, Salt, Spices, Sodium Benzoate (As A Preservative)
Description:
Official:
"Valentina Black Label Salsa Muy Picante (Extra Hot) is one of the best selling chile sauces in Mexico. It is hot but it is renowned for its flavour rather than heat - think citrus with a spicy after taste. Also available in a less hot, yellow label version."
User Reviews
A4.4

Reviewed by chiligeorge on August 15th, 2023

Taste: 4.6
Aroma: 4.4
Looks: 4
Heat: 4
Label: 3

Label:

It does the job. Inconspicuous, but definitely less appealing than the actual flavour of the sauce, which well get to.

Looks:

A brick red smooth pouring sauce which drips quickly from the packaging, almost like a pour. It mixes great with food, as if it was designed to be mixed with rice and beans among other things.

Aroma:

Smells amazing. Smokiness, punchiness from the peppers, that hint of sour from the vinegar. Its really salsa like, but spicy.

Taste:

The salsa flavour hits you first. Wonderfully balanced flavor with the spices, peppers, and vinegar. Theres an indescribable smoky undertone which gives the impression that its asking to mingle with bbq meat. When I tried this, it definitely shined amongst bbq, just like it shined among other foods.

Heat:

Certainly hot enough for the average eater. In higher dosages, it even make me tear. This sauce can appeal to the lower tolerance enjoyer with a few drops, or the spice veterans with a lot more. Its spice to flavour ratio is very very balanced.

Overall:

Fantastic hot sauce. Great mexican flavour. I highly recommend you get this. Look in your import isle or a mexican market