ABC - Sambal Manis Pedas (Hot & Sweet)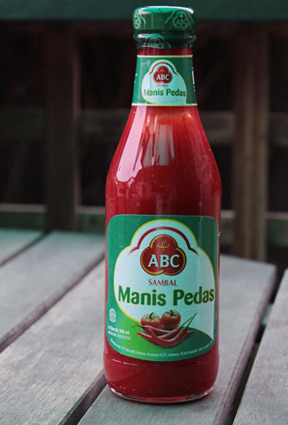 Ingredients:
Sugar, Water, Chilli, Salt, Tomato, Onion, Vinegar, Flour, Food Additives
Description:
Official:
"Hot & sweet chilli sauce"
User Reviews
B-3.0

Reviewed by Frits on August 9th, 2012

Taste: 4
Aroma: 2
Looks: 2.5
Heat: 1
Label: 3

Label:

A very simplified design depicting tomatoes and chillies, the main flavours of the sauce. Clear text, clean graphics and nice photo.

Looks:

The sauce is a rich tomato red. Its consistency is similar to ketchup or relish. It is somewhat thick and sticky therefore pours after a few knocks on the bottle. It holds together once poured.

Aroma:

A slight tangy vinegar smell, not strong in heat.

Taste:

Without looking at the bottle I would probably mistake this for a ketchup. It is first a tangy, sweet tomato flavour, followed by a hint of vinegar and chilli which is both mild and pleasant. The sweetness overpowers the chilli and vinegar flavours, although doesn't mask them completely.

Heat:

The heat is by no means overpowering, however this is one of ABC's lesser spicy sauces. The chilli hit comes after a few seconds and lingers pleasantly at the back of the mouth.

Overall:

Cooking for friends who are afraid of spice? This sauce may just well do the trick! It has lovely sweet tang which should be welcomed by non-chilli aficionados, with a slight but not overpowering kick at the end. It certainly ranks low on the heat level however is a great sauce in its own right.