Arizona Gunslinger - Chipotle Habanero Pepper Sauce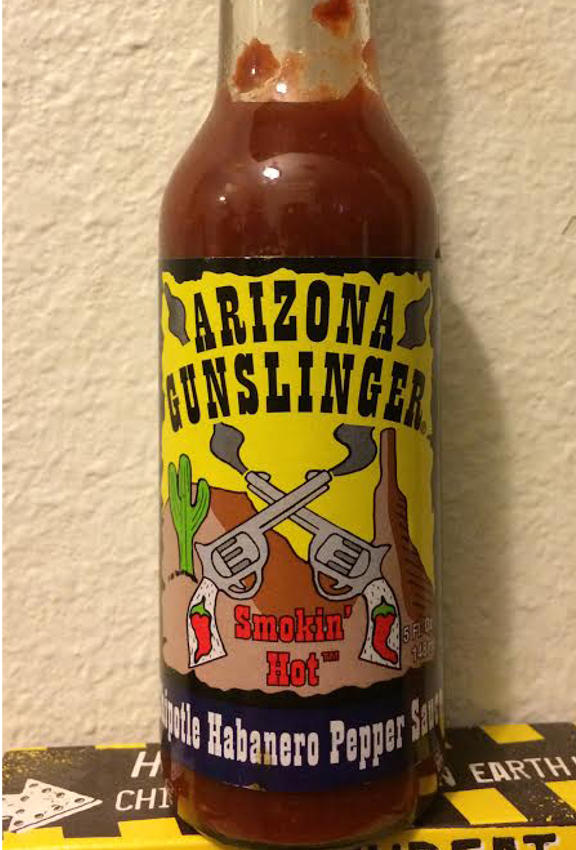 Maker:
Arizona Pepper Products Co., Inc.
Mesa, AZ, United States
Pepper(s):
Habanero, Jalapeño, Chipotle
Ingredients:
Ripened Habanero Peppers, Red Ripened Jalapeno Peppers, Vinegar, Chipotle Peppers, Salt
Description:
Official:
"We've combined the smokey flavor of the chipotle pepper with the hot habanero pepper to give you a truly superior flavor! Arizona Gunslinger® Chipotle Habanero Pepper Sauce is a moderately hot, universal sauce that can be used for everything from a condiment to a salad dressing."
User Reviews
B-3.0

Reviewed by Demonica on June 8th, 2017

Taste: 3.8
Aroma: 4
Looks: 4.3
Heat: 4.2
Label: 4

Label:

Cartoony and rustic. Makes me think of Wile E. Coyote & Road Runner back in the Looney Toons!

Looks:

A little watery with a bit of viscosity. Just enough to shake onto a slice of pizza but won't rush out and drown it.

Aroma:

Serious savory smell here, with a bite that tickles the nostrils. Sharp enough and just the right notch of tang to get your tastebuds going. The strong smell can be off-putting to some, though.

Taste:

Sharp, heady, and strong. The smokiness from the chipotle peppers compliments the jalapenos perfectly, and the heat from the habaneros makes it all work together.

Heat:

Smoky, sharp, and tangy. I didn't run for the milk bottle; was more pleasantly burned by the building heat.

Overall:

A good sauce. I enjoy it on eggs, pizza, and in soups. However one HUGE factor lets me down, every time: Upon purchase their bottles ALWAYS leak or have some kinda crusty dried stuff on the rim of the seal and down the sides. It doesn't seem to affect the flavor however. I've seen this phenomenon at no less than 5 stores, so can only assume it's something wrong done in packaging. Don't let it deter you, regardless the packaging this is a fine sauce!