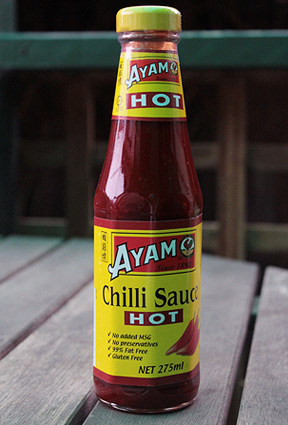 Ingredients:
Chillies, Sugar, Tomato Paste, Vinegar, Salt, Thickener, Spices, Food Acid, Vegetable Gum, Caramel, Food Additives
Description:
Official:
""Recommendation: A versatile, thick hot Chilli Sauce which is ideal as a dipping sauce for spring rolls, roasted meats, fried fish and chicken. Just add a few tablespoons to your favourite stir fry noodles to enhance flavour.""
User Reviews
B+3.8

Reviewed by Frits on August 9th, 2012

Taste: 4.5
Aroma: 4
Looks: 2.5
Heat: 1
Label: 2

Label:

A very simplified design depicting chillies. Clear, informative text and clean graphics. Nothing too fancy.

Looks:

The sauce is a dark smokey red. It has a smooth ketchup consistency. It is slightly thick yet pours easily from the bottle.

Aroma:

A tangy vinegar smell, with a hint of chilli.

Taste:

The flavour is unassuming at first. There is pleasant sweetness in the beginning, followed by a slight amount of chilli that hits the back of the mouth. The sweetness seems to be the main overbearing flavour; a smokey, caramel tang.

Heat:

I didn't find the heat overpowering. The heat sensation is a pleasant tingle, opposed to a jarring kick of fire.

Overall:

This is a delicious sauce that I would add to stir-fries, allowing my friends to add further spice according to their own taste. There is a pleasant mildness of heat but mainly a smokey caramel tangy sweetness which gives this sauce a flavour of is own.