Arizona Spice Co. - Black Scorpion Hot Drops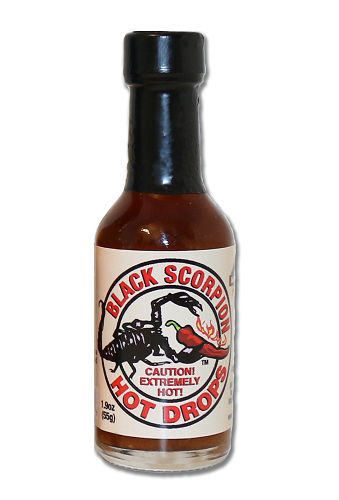 Maker:
Arizona Spice Company
Mesa, AZ, United States
Pepper(s):
Bhut Jolokia (Ghost Chili), Trinidad Scorpion
Ingredients:
Wine, Seasonings,Trinidad Moruga Scorpion Pepper, Ghost Pepper
Description:
Official:
"Black Scorpion Hot Drops: xxx Hot Gluten Free. All Purpose. Blended with spices in a base of white wine. It also contains ghost pepper for that extra flavor and kick. Our Hottest blend. Made with the hottest pepper in the world! The Trinidad Moruga Scorpion pepper. The heat from this pepper makes your taste buds tingle. A lasting sting that will please the heat seeker. Quite different from the heat of any other pepper. Great flavor in this hot sauce. Great on sandwiches or sprinkle on your burger, steak or chicken to get that stinging tingle!."