Blair's - Pure Death Sauce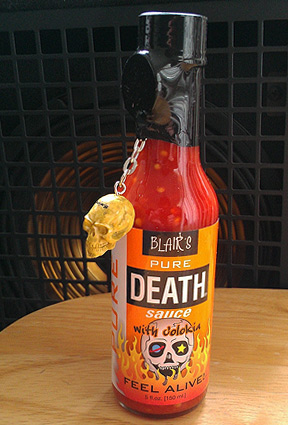 Maker:
Blair's Sauces & Snacks
Highlands, NJ, United States
Pepper(s):
Habanero, Bhut Jolokia (Ghost Chili)
Ingredients:
Habanero Chili Pods, Naga Jolokia, Vinegar, Hawaiian Red Salt
Description:
Official:
"Pure Death Sauce, with Jolokia; Feel Alive! Suggested Uses: This is the sauce with no limits. Universal flavor appeal the world over.

Contains absolutely no preservatives or artificial ingredients."
User Reviews
B+3.8

Reviewed by noisebloom on January 29th, 2022

Taste: 3.8
Aroma: 3.5
Looks: 4
Heat: 2.9
Label: 3.3

Label:

Blair's labels are always simple and look nice. The orange label on this one helps it stick out more.

Looks:

The deep red color and pepper chunks make this one tasty-looking sauce.

Aroma:

The aroma is quite pleasant, a subtle, peppery sweetness to it.

Taste:

This is much tastier than most of Blair's sauces I've tried, and there's no bitter extract flavor here. The fruitiness of the Habanero and Ghost Peppers stands out nicely and compliments the spice. My only complaint is that the vinegar comes out a bit too much in this one.

Heat:

This sauce is no slouch for spiciness, but it won't burn your face off. It has a good moderate spice to it - just don't dump it on your dish like ketchup.

Overall:

Blair's Pure Death rises above most of the saucemaker's offerings, delivering a hot sauce that is all pepper and no extract, from what I can see and taste. It's a tasty sauce that I would gladly buy again.