Blair's - Ultra Death Sauce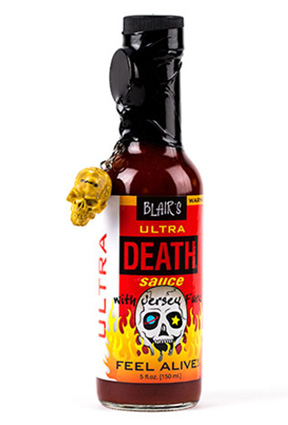 Maker:
Blair's Sauces & Snacks
United States
Pepper(s):
Habanero, Cayenne, Bhut Jolokia (Ghost Chili), Serrano
SHU
:

1,100,000
Ingredients:
Habanero Peppers, Salt, Cayenne Peppers, Natural Flavor, Vinegar, Serrano Peppers, Corn Starch, Garlic, Jolokia Peppers, Spices
Description:
Official:
"Death Sauce is respected.

A hot sauce so insane, it's igniting the top of our heat meter. The sinister swirl of habanero, cayenne, serrano, and jolokia unleashes undeniable flavor filled with unfathomable fire. Feel Alive with Blair's Ultra Death, and taste the thrill of the unthinkable. Spare yourself, and use sparingly. This sauce is the real deal!!

To experience this Death is unforgettable.

BE WARNED: This sauce contains ingredients 900 times hotter than a jalapeño chili. Use sparingly. Not recommended for use without dilution.

DISCLAIMER: This product contains the hottest known ingredients on the planet. Please use with extreme caution."
User Reviews
B3.5

Reviewed by chiligeorge on May 6th, 2015

Taste: 2.8
Aroma: 3.7
Looks: 3.9
Heat: 2.5
Label: 5

Label:

A Colorful label that attracts the eye and text that is easily legible. A well presented bottle that even comes in its own coffin box. There are warning labels littered all over the box and the bottle saying how hot the product is and how it shouldn't be consumed without dilution.

Looks:

This sauce has a distinctive dark, vibrant red color with very slight streaks of black in the bottle. Scary. When you put this in your food, you will know its in your food because of its thick, red color. The seasoning and the chili seeds are visible in the liquid. The consistency is that of lightly watered tomato puree. Thick enough to group together, but not loose enough to be watery. Just the right amount comes out of the bottle due to its thickness (makes medium sizes drops) and the bottle comes with a dropper.

Aroma:

An unmistakable smell. A sharp aroma of Naga G with a hint of vinegar. Wont take the smell of your food away, but it smells quite strong compared to some other hot sauces. If mixed slightly with barbecue sauce, it smells wonderful.

Taste:

The consistency makes it hard to mix into your food with the amount you would realistically put in it. It does mix well in your mouth and leaves an accurate flavor of the chili like it would taste like from the bottle. Not much taste other than a strong peppery taste, quite like an altered Tabasco with an extra smokey flavor (only a small amount). Not exactly sweet, but taste ok. I think it tastes good with steak and wings. It would make a good hot barbecue sauce mixed with some.

Heat:

For me, a young adult who like chili, its too hot. Yea, im a white guy, but you see, this is bloody hot. I think there is too much heat for flavor and i am not able to tell what the aftertaste is because to me, its all heat after the intake. Yet this can still be fixed and you can still enjoy it just as much.

Overall:

Heat wise for me is just unconventional and unrealistic to be a sauce. I cant even have one drop of this on a baked potato and think its not hot. Maybe a few on a steak will be nice, but its unrealistic to use this for everything. If you are a chili head, then yes, this might be for you, but i dont think this should stop you from getting it. For its heat and conventional use, its well worth the money for the amount you will use. Its been the most efficiently bought chili ive had in a long time and when you take the time to mix this sauce with weaker ones (on your plate), it will serve you and the taste will please you.