Boomslang Ghost Pepper Hot Sauce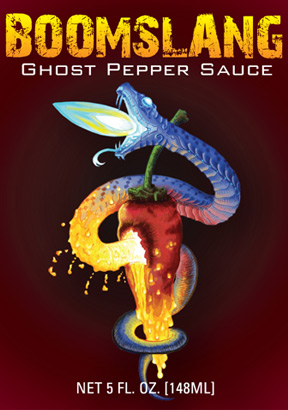 Maker:
Ashley Food Company
Sudbury, MA, United States
Pepper(s):
Jalapeño, Bhut Jolokia (Ghost Chili), Thai
Ingredients:
Vingar, Tomatoes, Bhut Jalokia, Garlic, Jalapeno Peppers, Herb, Spices, Pepper Extract, Salt, Bird's Eye Peppers
Description:
Official:
"Boomslang Peri Peri Ghost Pepper Hot Sauce.

See the snake?

It's the Boomslang, one of Africa's most lethal. See the pepper? It's the ominous and infamous Ghost Pepper.

Put the two together and you have Boomlsang Hot Sauce, a unique blend of alll natural ingredients from the makers of the world's hottest and most flavorful sauces, Ashley Foods.

One taste and you'll see why this is a sauce to die for!"