Deer Camp - Buckshot Blueberry Hot Sauce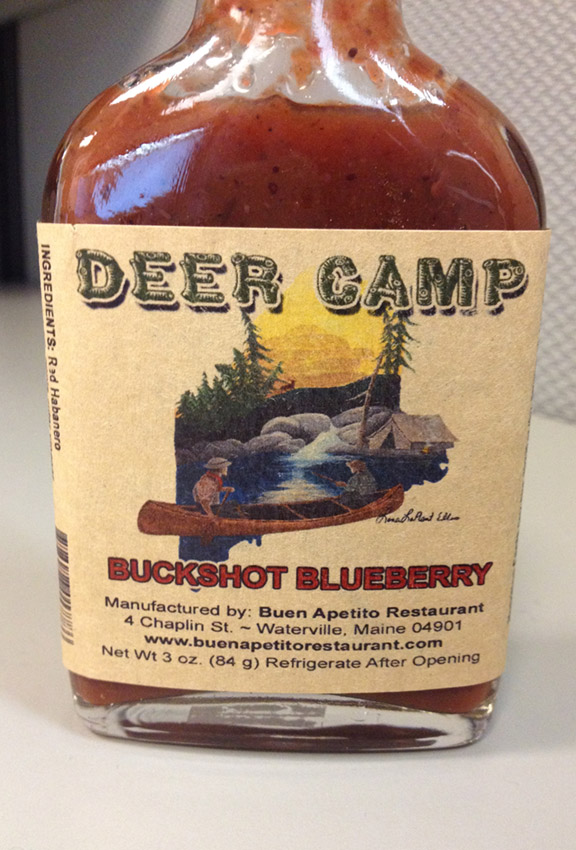 Maker:
Deer Camp Sauce
Waterville, ME, United States
Pepper(s):
Habanero
Ingredients:
Habanero Peppers, Carrot, Apple Cider Vinegar, Blueberry Preserves, Onion, Lime Juice, Agave Nectar, Garlic, Coriander, Salt
Description:
Official:
"What's got sugar and spice and everything nice? This winner of an Open Fields award, that's what! Blueberry preserves honor our Maine heritage and add a sweet touch to our newest hot sauce.

The base is our house blend of red savina Habanero peppers, carrot, apple cider vinegar, lime juice, agave nectar, garlic, onion and coriander.

We're hard-pressed to think of anything this won't taste delicious on."
User Reviews
C+2.9

Reviewed by Thurston on October 6th, 2015

Taste: 3.3
Aroma: 3.3
Looks: 3.7
Heat: 2
Label: 3

Label:

Rough brown paper that recalls butcher paper with the State of Maine and an outdoors man canoeing a long a bucolic river. I like it but it lost points since all the sauces have essentially the same label.

Looks:

An attractive, deep blue bordering on purple. Thick but still pours easily. Jelly-like consistency. Chunks of garlic, pepper, spices and blueberry throughout.

Aroma:

Surprisingly, very vinegar and habanero forward. Very slight undercurrent of sweetness.

Taste:

Garlic and vinegar are at the forefront which gives way to the fruit of the blueberry and peppers. A very subtle sweetness.

Heat:

Very mild for a habanero sauce. A delayed and subdued kick at the back of the throat that quickly dissipates.

Overall:

The sauce isn't too sweet and is mild on the fruit flavor. I would have preferred a little more heat and a more intense blueberry flavor. I tossed some chicken wings with this and the sauce got lost against the flavor of the chicken. I think this would be good on blander foods so as not to be overpowered. A good accompaniment to cream cheese, pancakes or even vanilla ice cream.