Burns & McCoy - Exhorresco: 7-Pot Primo Hot Sauce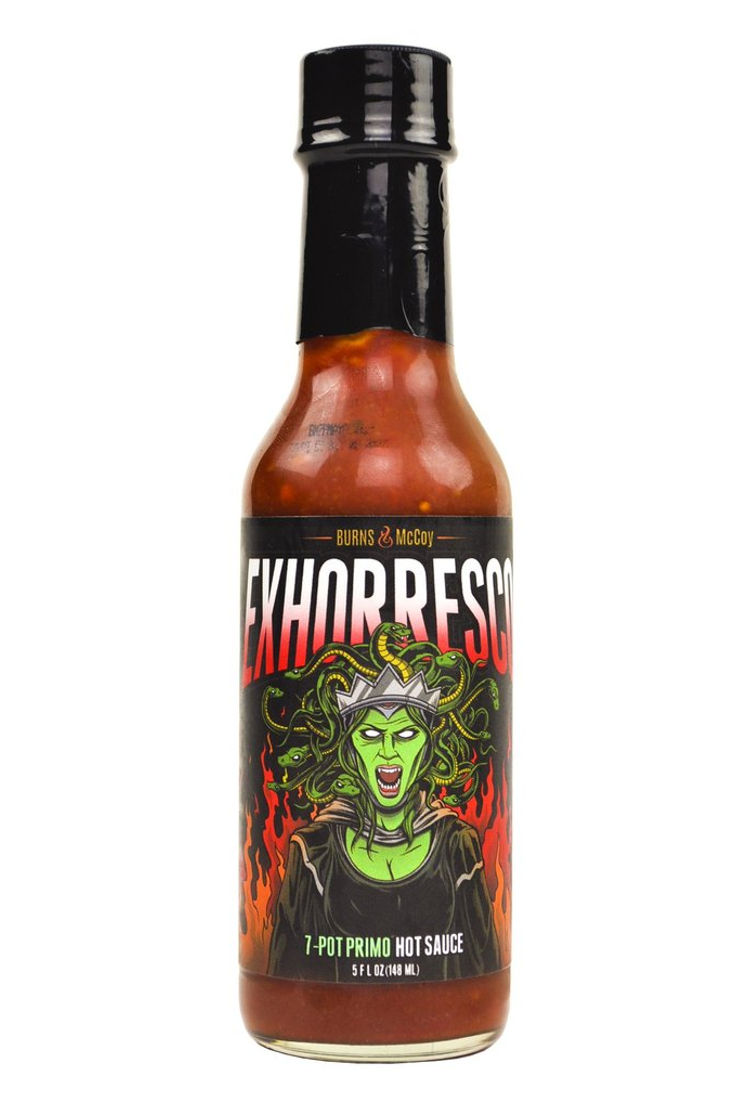 Maker:
Burns & McCoy
Fort Collins, CO, United States
Ingredients:
7 Pot Primo Peppers, Oak Aged Apple Cider Vinegar, Agave Nectar, Yuzu Juice, Black Garlic, Salt, Spices.
Description:
Official:
"Exhorresco is one of the hottest all natural hot sauces in the world. We combined the 7-Pot Primo with the perfect blend of spices, agave, oak aged apple cider vinegar, black garlic and yuzu juice.

This sauce is no joke and you must use extreme caution when using this sauce."
User Reviews
A-4.2

Reviewed by Kebiko on June 3rd, 2019

Taste: 3.7
Aroma: 3.7
Looks: 4
Heat: 4.7
Label: 5

Label:

What's not to love about this label? All of the Burns & McCoy labels display awesome artwork.

Looks:

Thick blood red. Smooth consistency. Not too runny. Pours nice.

Aroma:

Smell screams of the infamous 7 Pot Primo. One of the hottest peppers on the planet!

Taste:

Sweetness at first from the agave along with a citrus bite of yuzu . Tang from the cider vinegar but the pepper flavor is present from the start and quickly intensifies to a smolder.

Heat:

Hands down one of the hottest non extract sauces available.

Overall:

A must have in the fridge of any hardcore chili head who likes super hots. You can't go wrong with this one.