Butterfly Bakery - Maple Wood Smoked Onion Hot Sauce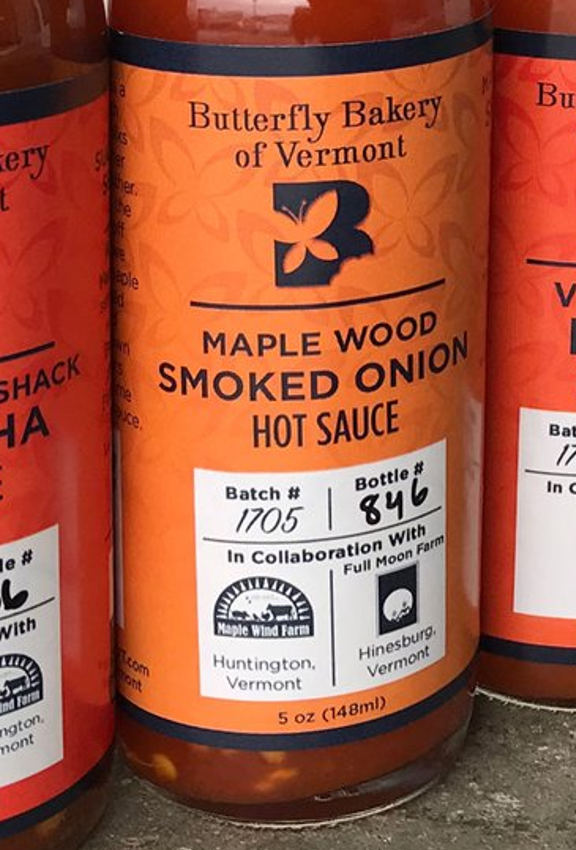 Maker:
Butterfly Bakery
Montpellar, VT, United States
Pepper(s):
Habanero, Jalapeño, Carolina Reaper
Ingredients:
Vermont Grown Chili Peppers, Organic White Vinegar, Maple Wood Smoked Vermont Grown Onions, Salt
Description:
Official:
"This started as a one off batch flavor. Then folks wanted another batch. And another. It was around the fourth "one of batch" that we realized that maple wood smoked on ions and Vermont grown chili peppers makes for some fabulous hot sauce."
User Reviews
A-4.0

Reviewed by LUNAMAN on January 21st, 2018

Taste: 4.5
Aroma: 4.1
Looks: 3
Heat: 2.4
Label: 3

Label:

Labeling and bottle are fine. I don't deduct points for labels....i look for flavor

Looks:

Dark red-brown color. On the thicker end of viscocity, small bits of onion and chili peppers.

Aroma:

Deep rich smokey aroma with a sweetness of caramalized onions. Really enjoyable on the nose. Not overly complex or simple aroma

Taste:

Ive had some umami hot sauces that are too complex in flavor profile and stumble over themselves.... this is not one of those. As you can see from the ingredients list this is a hot sauce whose complexity in flavor comes from just a free ingredients which i really appreciate. Very enjoyable and balanced level of smokiness, sweetness, jalepano flavors. Great addition to a dishes that benefit from some depth of flavor. I really enjoyed on carne con chili(chili colorado) and omlets

Heat:

On the mild side, but balanced well

Overall:

A very solid sauce and was a bit surprised at how much it grew on me. Reminded me in many ways of another hot sauce i really enjoy called Hot Maple out of oregon