CaJohns - Krakatoa! Pure Red Savina Habanero Mash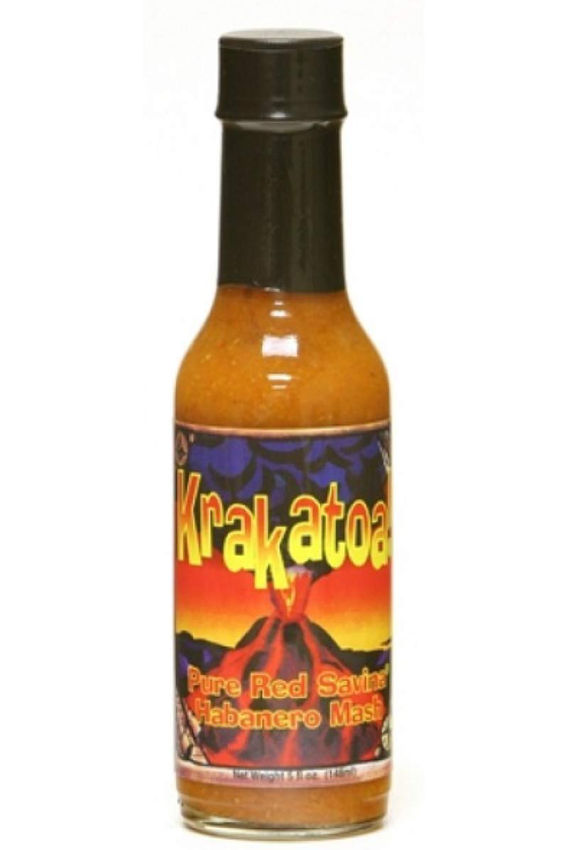 Maker:
CaJohns Fiery Foods
OH, United States
Pepper(s):
Habanero
Ingredients:
Red Savina, Habanero Chiles, And Vinegar.
Description:
Official:
"Only the finest of all natural ingredients are used in this gourmet hot sauce. The result of a careful selection of the best available ingredients, exquisitely blended to producte not only the desired amount of heat, but a richness of flavor as well. Your satisfaction is guaranteed! A bright red-orange color warns of the fire contained within. A devout chilehead would welcome it as a finishing sauce to his favorite dish, but be warned - it can cause an eruption of fire and flavor to rival the obliteration of Krakatoa, an Indonesian island, in 1883.

1999 Fiery Food Challenge, won 2nd Place, Habanero Hot Sauce Category."
User Reviews
B+3.7

Reviewed by Kebiko on July 23rd, 2019

Taste: 4.5
Aroma: 4.1
Looks: 4
Heat: 2
Label: 4.1

Label:

I actually like the colorful label with the large font name of the sauce. Volcano blowing its top with a smokey plume adds a nice touch.

Looks:

Bits and pieces of pepper's add a nice look and texture to this sauce. It is quite liquidy. Color is similar to a stewed tomato color. This is actually advertised as a mash and the look, texture and feel of it is consistent with a pepper mash.

Aroma:

Red Savina Habanero comes through nicely. Really no trace of vinegar scent could be detected.

Taste:

I am a real big fan of the Red Savina Habanero in general so its no surprise I enjoyed the flavor of this as much as I did. You do get some vinegar but its mild. What really comes through is the pepper. Good stuff!

Heat:

Sadly this product came no where near meeting my expectation in the heat category which surprises me being that it is a Cajohn product.

Overall:

Though the sauce fails to deliver in the heat category it certainly offer a great flavor and goes well on just about anything. I drenched it over chili-dogs with dinner tonight and it was amazing. If it's Red Savina flavor that you are looking for, this bottle will deliver it. If you are seeking heat, you'll get more satisfaction from a bottle of Tabasco.