Cholula - Chili Garlic Hot Sauce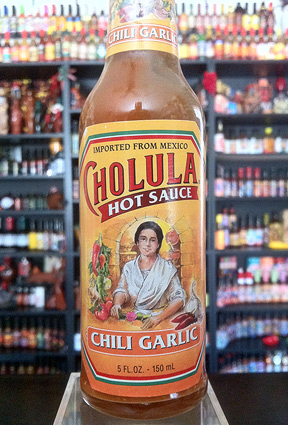 Maker:
Cholula
Mexico
Pepper(s):
Piquin, Arbol
SHU
:

3,600
Ingredients:
Water, Salt, Dried Peppers (Arbol And Piquin), Vinegar, Garlic, Spices, Natural Flavors, Xanthan Gum, Dried Garlic
Description:
Official:
"A garlic lovers dream! Cholula Chili Garlic gives you the full benefit of Cholula's original Flavorful Fire complimented with an abundant presence of fresh, coarse ground garlic. It is an incredible flavor enhancement to pasta sauces, pizza, poultry, soups and anywhere you would enjoy a little garlic!"
User Reviews
B3.5

Reviewed by banjax on August 28th, 2012

Taste: 3.8
Aroma: 3
Looks: 4
Heat: 0.5
Label: 3

Label:

Standard Cholula labelling. Wood cap.

Looks:

A little on the runny side, as are the other Cholulas. I usually end up wearing this when I put it on my breakfast burrito.

Aroma:

GARLIC. GARLIC. vinegar, GARLIC. You buy the ticket, you take the ride.

Taste:

If you are a fan of garlic you will like this. I recommend it to anyone who works retail, as it will shorten your transactions by at least %30. This will give you breath that I like to refer to as The Customer Service Special.

Heat:

Less heat than Tabasco. It's more about the tangy garlic flavor here.

Overall:

No heat compared to any other sauce I own. It's very tangy though. Good on breakfast foods. Bad on breath.