Cholula - Chipotle Hot Sauce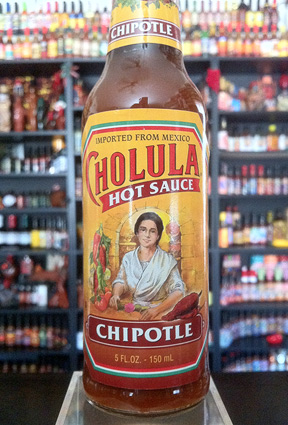 A-

4.2

/

5

BASED ON

2

REVIEWS
Maker:
Cholula
Mexico
Pepper(s):
Chipotle, Piquin, Arbol, Guajillo
Ingredients:
Water, Vinegar (white And Apple), Sugar, Peppers (chipotle, Guajillo, Arbol And Piquin), Salt, Natural Flavors, Spices, Xanthan Gum, Silicon Dioxide, Citric Acid,caramel
Description:
Official:
"Cholula Chipotle Hot Sauce...featuring a savory blend of Cholula's original "Flavorful Fire" and the smokey and slightly sweet flavor notes or real Chipotle peppers. It brings sensational new flavor to soups, ranch dressing, steaks, chicken and more."
User Reviews
A+4.9

Reviewed by ALittleF22 on July 11th, 2022

Taste: 4.9
Aroma: 4.6
Looks: 4.9
Heat: 4.9
Label: 4.8

Label:

I went to go check it out in my fridge to remind myself. This label is iconic. Bright and happy on the shelf.

Looks:

The color is almost neon - communicates the depth of flavor and spice. Gosh, this fridge is empty.

Aroma:

I'm getting so hungry. All I have is eggs? How can that be.

Taste:

I don't know what the ingredients are but it tastes like the color red. (I guess…I'll just have eggs again?)

Heat:

It's very reasonable! Just don't over do it. Unless…you don't have any other food to flavor your eggs with.

Overall:

Excellent for adults who don't always have time to grocery shop. Makes an adventure out of nothing.

B3.5

Reviewed by OllieT on August 17th, 2018

Taste: 3.8
Aroma: 4.5
Looks: 4.7
Heat: 1
Label: 4

Label:

Classic style, same as the Cholula original.Unmistably Mexican. I'm a big fan, and it is easily recognisable.

Looks:

The sauce is a rich mahogany colour, much darker than your usual hot sauce. Almost looks like gravy or a traditional BBQ sauce! Visually it looks great and very intriguing. Visible suspended particles of peppers, garlic and spices which I love to see. Quite runny, hence the use of a dropper botttle.

Aroma:

Very smokey, brings BBQ or chilli con carne to the mind when taking in the smell. Can smell paprika quite strongly too, and also faint vinegary hints. The aroma is quite muted compared to other hot sauces, but it is very pleasant and warming.

Taste:

The first hit on the tastebuds is very salty and garlicky. Then the smokey, BBQ-like flavours from the chipotle peppers come through, along with the sweetness and tangyness of the vinegar. Finally, the heat comes through and the aftertaste is fine enough. Overall a tasty hot sauce that doesn't quite hit the spot for a 4/5.

Heat:

Very mild, but hot enough to be considered a "hot sauce" for sure.

Overall:

Very interesting looking and smelling sauce. The taste is not as spectacular but still very pleasing. In my mind this sauce is best used within other recipes such as within chilli or soups, or even to perk up a spaghetti bolognese rather than splashed on fries or scrambled eggs. Definitely worth a try if you like salty, garlicky, smokey tastes.