Culley's - Chipotle Hot Sauce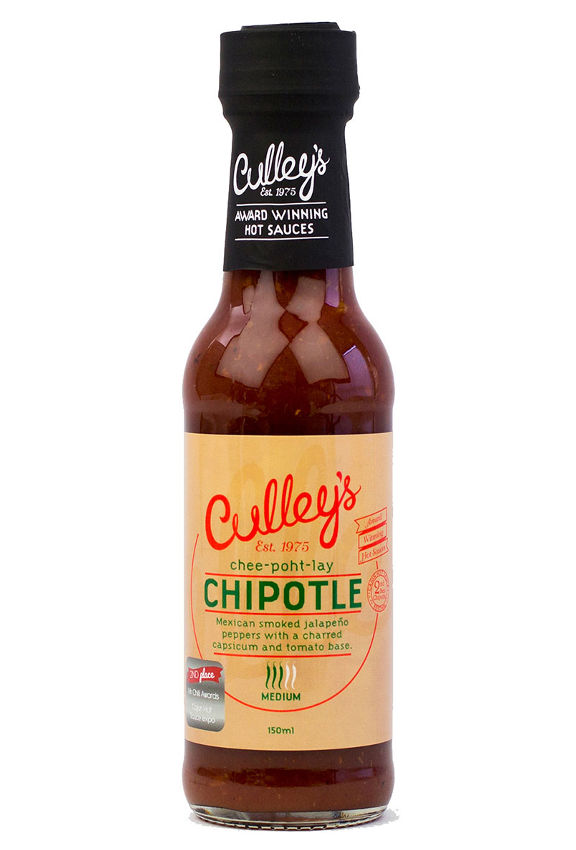 Maker:
Culley's
New Zealand
Pepper(s):
Chipotle, Carolina Reaper
Ingredients:
Italian Tomatoes [Tomatoes, Tomato Juice, Acidity Regulator (citric Acid)], Roasted Capsicums [red Peppers, Water, Vinegar, Salt, Sugar, Firming Agent (509)], Carolina Reaper Chillies, Chipotle Pepper Mix (chipotle Peppers, Water, Tomato Puree, Vinegar, Salt, Sugar, Garlic, Soybean Oil), Onion, White Wine Vinegar (wine, Antioxidant (224)], Water, Sugar, Garlic, Smoke Flavouring, Salt, Smoked Paprika, Stabiliser (Xanthan Gum), Black Pepper
Description:
Official:
"Great to add to tacos, burritos and fajitas or with any mexican dish."
User Reviews
A+4.8

Reviewed by chiligeorge on July 22nd, 2018

Taste: 4.3
Aroma: 4.6
Looks: 4.1
Heat: 4.6
Label: 2.9

Label:

Classic rustic but modern labeling. Black bottle cap for class and ridged bottomed glass bottle for simple design. The top is open, so be careful pouring.

Looks:

A viscous, but flowing bark brown sauce with visible spices, grains and seeds in it. It doesnt really affect the texture when eating it.

Aroma:

Very smokey smell. Very fitting with mexican food.

Taste:

Strong chipotle taste with even stronger smokey flavours. It tastes like everything you need in a mexican style hot sauce. Almost tastes burnt, but that adds to the great flavour. You can taste it when you mix it in with dishes, like paela. Its definitely a sauce for tasting.

Heat:

Pretty decently spicy. Chilli heads can take the heat, but general consumers will find this a hot sauce. Good thing, too.

Overall:

A great tasting sauce that has an equally great flavour to heat ratio. It works perfectly with mexican style dishes and also great on meats, like chicken and steaks and pork. It adds lots of flavour to rice and meaty pastas. Very affordable and should be considered.