Tropical Pepper Co. - Curry Delight Hot Sauce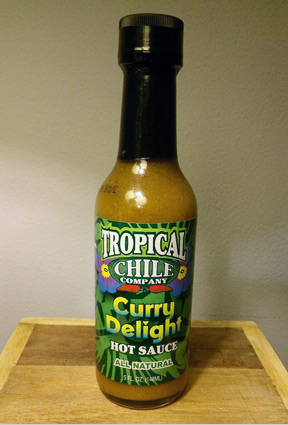 Maker:
Tropical Chile Company
St. Charles, IL, United States
Pepper(s):
Habanero
Ingredients:
Aged Habanero Peppers, Vinegar, Garlic, Onion, Curry, Mustard, Salt
Description:
Official:
"Caribbean Flavor, Caribbean Heat, Caribbean Memories, Caribbean Love"
User Reviews
A4.5

Reviewed by Ethan on October 19th, 2016

Taste: 5
Aroma: 5
Looks: 4.5
Heat: 4
Label: 3.5

Label:

The label could use some work, but overall, it's whats inside that counts.

Looks:

It is a thicker consistency about as viscose as Huy Fong Sriracha, but with larger particulates. Overall pleasant.

Aroma:

This smells tantalizingly of curry. It immediately reminds me of a yellow Punjabi curry.

Taste:

This hot sauce tastes like an Indian curry lacking ginger with a bit of acidity.

Heat:

The heat is not much at all. If I had to guess, it would be around 3,000 Scoville units. It provides a healthy amount of kick to your dishes without making them too spicy.

Overall:

This is my favorite hot sauce. It leaves little to be desired. The one thing I wish this hot sauce had was more accessibility. Right now, the only place to get it is on the eathot.com website where it costs over $10 for shipping.