Dave's Hurtin' Habanero Sauce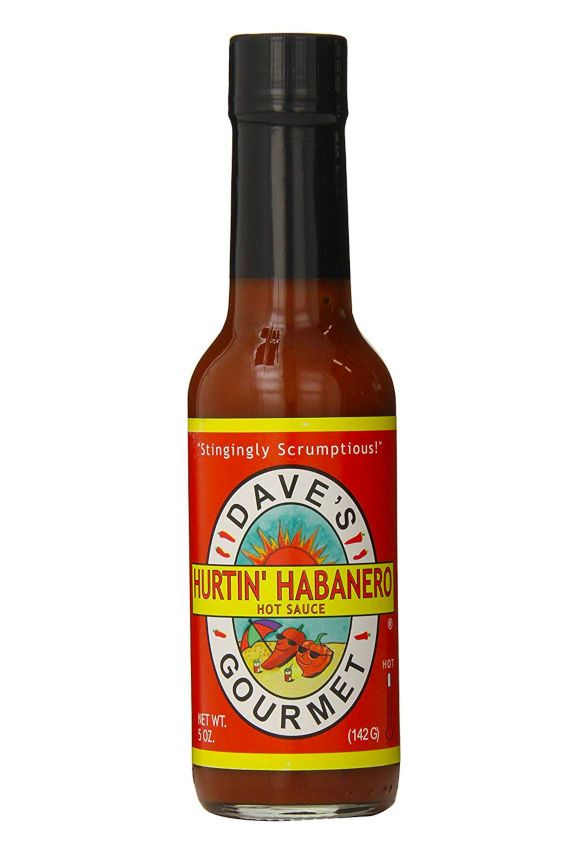 Maker:
Dave's Gourmet
San Francisco, CA, United States
Pepper(s):
Habanero
Ingredients:
Water, Habanero Puree (habanero Peppers, Salt, Acetic Acid), Apple Vinegar, Cane Vinegar, Red Chile Puree (red Peppers, Salt, Acetic Acid), Spices, Lemon Juice, Garlic Pulp, Sugar, Citric Acid, Xanthan Gum, Ascorbic Acid
Description:
Official:
"This sauce makes a delicious addition to your potatoes, chicken, soups, salads, or pizza. Enjoy!"
User Reviews
B+3.7

Reviewed by spamiel on July 5th, 2017

Taste: 3.8
Aroma: 3.5
Looks: 4.5
Heat: 3.6
Label: 4

Label:

Classic Dave's Gourmet type logo. Has a couple of peppers sunning themselves on the beach.

Looks:

Dark red color, not completely homogenous (there are some very small flecks of peppers, etc). About medium consistency, it isn't runny, but at the same time, you won't need to shake the bottle to get some out.

Aroma:

The smell is a very mild habanero smell, followed up by cayenne pepper and an extremely slight vinegar smell.

Taste:

Even though there are no tomatoes in the ingredients, this sauce reminds me of a spicy, non-sweet barbecue sauce. Some of the hotter sauces (e.g. Mad Dog 357) taste smokey in a bad way, however this sauce has a milder smokey flavor that is pleasant. It tastes more like the flavor you might get if you used a decent amount of paprika and cayenne. Unfortunately, the habanero flavor is a little understated, although the sauce does leave a slight habanero-like taste lingering behind.

Heat:

The heat intensity is pretty mild. I would compare it to say Cholula. I do like the profile of the heat though (is that a thing?) - it ramps up slowly to a sting, then fades to a nice simmer. I do find I have to add quite a bit to a baked potato if I want the sauce to stand out.

Overall:

This is a pretty solid sauce. The flavor is moderately complex, although it does seem like it could lean on the habanero a little more and a little less on the paprika/cayenne. Since it is one of the few options at my supermarket that isn't vinegar heavy and costs only a few dollars, it is a decent go-to for mild heat with some depth of flavor.