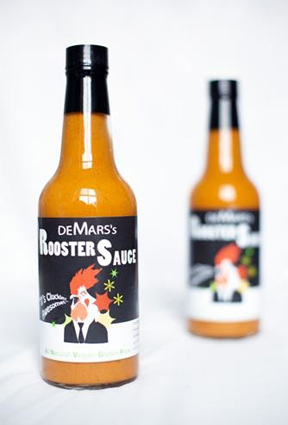 A+

5.0

/

5

BASED ON

2

REVIEWS
Maker:
de Mars's LLC
Olympia, WA, United States
SHU
:

90,000
Ingredients:
All Natural Ingredients: Hot Peppers, Cider Vinegar, Olive Oil, Garlic, Tomato Concentrate, *Curry Powder, Chili Powder, Cayenne Powder, Onion Powder, Black Pepper, Salt, And A Touch Of Cane Sugar. *Items USDA Organic
Description:
Official:
"From the Label:
de Mars's Rooster Sauce is an all natural, gourmet hot sauce with a worldly flavor of heat. Our mission is to share a sauce with the world that is fresh, all natural, and delicious. Key ingredients include: Fresh Habaneros, Garlic, and Organic Curry. We also use an olive oil base that gices the sauce a smooth flavor and makes it excellent to cook with. Just a few drops on your favorite dish will have you screaming: "It's Cluckin' Awesome!""
User Reviews
A+5.0

Reviewed by hotlova on September 6th, 2013

Taste: 4.9
Aroma: 5
Looks: 4.9
Heat: 4.5
Label: 4.9

Label:

Pop art style. Love the colors.

Looks:

Smooth and thick. The olive oil makes it almost shimmer.

Aroma:

Almost my favorite part of the sauce. It smells fresh. Curry, garlic, and so much more. It smells really good when it's heated up too

Taste:

I taste the curry and garlic. It has a sweet back flavor to it but dang it's HOTT!

Heat:

Not the hottest sauce i've ever had but Rooster Sauce is no joke. It is a lot hotter than the tabasco and sirracha.

Overall:

Overall, this is my go to sauce. I have become an addict and have been enjoying Rooster Sauce for over a year. When you factor in the flavor, quality of ingredients, and the fact that it is 'produced locally'... it's pretty amazing.

A+5.0

Reviewed by domlaay on June 8th, 2013

Taste: 5
Aroma: 5
Looks: 5
Heat: 4.1
Label: 4.5

Label:

I like the label - The rooster is "Cluckin' Awesome!"

Looks:

The sauce is bright orange from the habaneros, and has a smooth creamy texture.

Aroma:

Smells great! It is really unlike any other hot sauce.

Taste:

There is a nice curry and garlic taste, but it is not overpowering. There is a real stand out taste. It is unlike any other hot sauce I have tried.

Heat:

It is hot. Way hotter than tabasco or sriracha

Overall:

It is hot, but has a lot of flavor. I go through a large bottle every 2 weeks. I put it on just about anything. If you are looking for something new - try this hot sauce.