Encona - Thai Sweet Chilli Sauce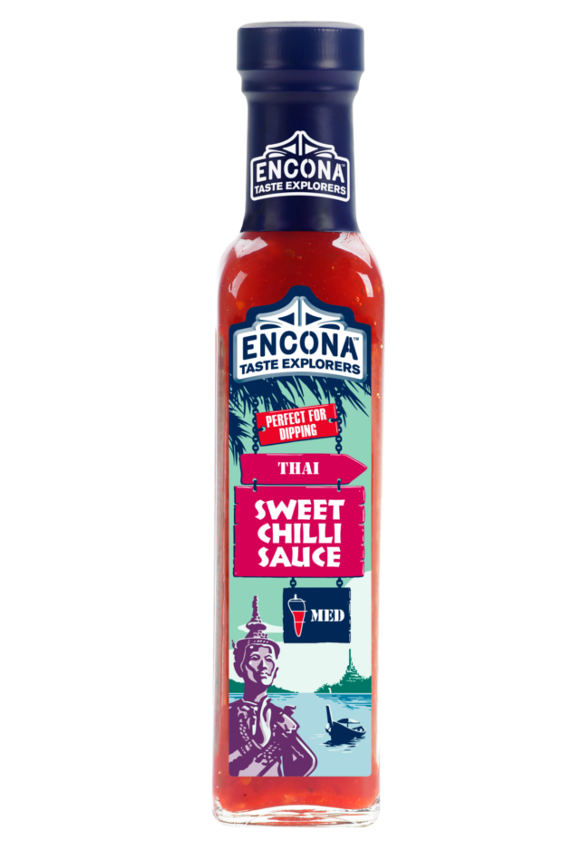 Maker:
Grace Foods
Welwyn Garden City, United Kingdom
Ingredients:
Sugar, Water, Chilli Mash (Chillis, Water, Acetic Acid, Salt) (15%), Garlic, Salt, Lime Juice, Stabiliser: Xanthan Gum, Colour (Paprika Extract), Spirit Vinegar, Preservative (Potassium Sorbate).
Description:
Official:
"Explore the taste of the Far-East with Encona Thai Sweet Chilli Sauce. Made to a classic Thai recipe, this universal favourite combines an authentic blend of chillies, garlic and lime juice. A delicious, spicy sauce with a sweet chilli flavour, it is a great addition to all your favourite Eastern and Western foods."
User Reviews
B-3.0

Reviewed by ilikehotsauce on September 30th, 2017

Taste: 3
Aroma: 3
Looks: 3
Heat: 0.5
Label: 3.2

Label:

220ml bottle from Sainsburys.co.uk. Nice square bottle and label design.

Looks:

Red colour with some chilli seeds floating, looks like standard sweet chilli sauce.

Aroma:

Light chilli mash, sugary light chilli, light vinegar.

Taste:

Much the same as the smell, sweet light chilli mash with some light vinegar and salt notes.

Heat:

Unsurprisingly not spicy, it's a sweet chilli sauce.

Overall:

Enjoyable enough very mild sweet chilli to put on rice / chicken whatever, fine.