Flying Goose Sriracha Hot Chilli Sauce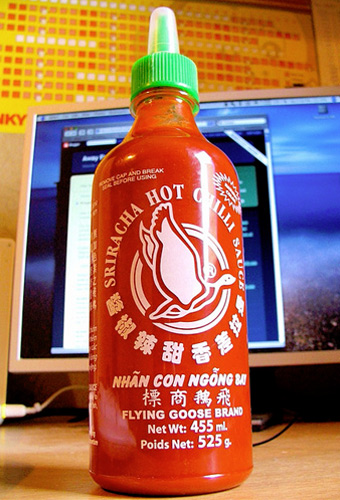 A-

4.1

/

5

BASED ON

2

REVIEWS
Maker:
Flying Goose Brand, Sea World Coldstorage Co., LTD
Chonburl, Thailand
Ingredients:
Chilli (70%), Sugar, Water, Garlic, Flavour Enhancer (E621), Acidity Regulator (E330), Stabiliser (E415), Preservative (E202)
Description:
Official:
"Sriracha Hot Chilli Sauce is made from sun ripened chillies. Read to use with roasted meat, cold meat, cutlet fish, egg roll or salad or whatever takes your fancy."
User Reviews
A-4.0

Reviewed by LewisW295 on January 15th, 2019

Taste: 3.7
Aroma: 4.9
Looks: 4.3
Heat: 3.1
Label: 2.1

Label:

Labelling for this sauce is lack lustre and tacky. Not a fan.

Looks:

This, for me, looks exactly how a hot sauce should look. It's bright red. It's the perfect blend of consistency and smoothness. Not too thin like Frank's and not chunky.

Aroma:

This is very subjective. It has an extremely pungent smell once out of the bottle. Personally, I love it. It smells lethal. It smells exotic. It kind of makes your nose twitch, looking for more.

Taste:

A very tasty sauce needs a perfect mixture of all ingredients. Unfortunately, I find this to be a bit on the salty side of things. The fruitiness is quickly overshadowed but does remain present.

Heat:

Not the strongest heat by far. Han Guyen tends to be a bit of a creeper with the flavours bringing you back for more til you realise that your mouth is actually quite hot. It's not an unpleasant heat at all which fades after a few minutes.

Overall:

I picked this up regularly at a burger van. I loved the allure of Asian hot sauce and it went great with burgers. I had a bottle in my cupboard for years with it seeing regular use with homemade burgers, oriental and even as a pizza sauce. It may not be the most flavoursome sauce in the world but it IS a must have for me. Definitely a sriracha gateway sauce.

A-4.2

Reviewed by Darrenavfc on July 29th, 2018

Taste: 5
Aroma: 3.9
Looks: 3.1
Heat: 2
Label: 2.5

Label:

Pretty bland labelling, just a see through bottle with some writing on

Looks:

I personally love the colour and texture of the sauce , got a nice dsrk red colour

Aroma:

Smells very garlicy with a hint of chilli

Taste:

By far my favourite sauce, I put it on every thing great heat not to kuch to over power, but also great tasting.

Heat:

Not the hottest sauce I've ever had but depends on how much you use I guess

Overall:

My favourite hot sauce I've tried so far... taste is great with a nice heat to it great on burgers Sandwiches etc...