Flying Goose Sriracha Hot Chilli Sauce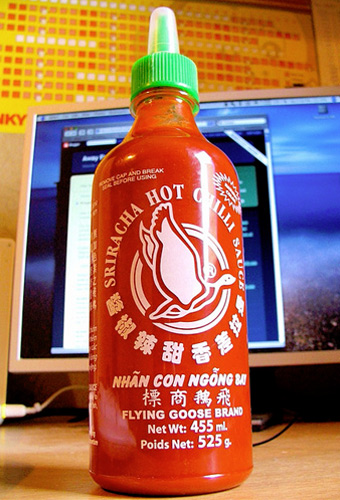 Maker:
Flying Goose Brand, Sea World Coldstorage Co., LTD
Chonburl, Thailand
Ingredients:
Chilli (70%), Sugar, Water, Garlic, Flavour Enhancer (E621), Acidity Regulator (E330), Stabiliser (E415), Preservative (E202)
Description:
Official:
"Sriracha Hot Chilli Sauce is made from sun ripened chillies. Read to use with roasted meat, cold meat, cutlet fish, egg roll or salad or whatever takes your fancy."
User Reviews
A-4.2

Reviewed by Darrenavfc on July 29th, 2018

Taste: 5
Aroma: 3.9
Looks: 3.1
Heat: 2
Label: 2.5

Label:

Pretty bland labelling, just a see through bottle with some writing on

Looks:

I personally love the colour and texture of the sauce , got a nice dsrk red colour

Aroma:

Smells very garlicy with a hint of chilli

Taste:

By far my favourite sauce, I put it on every thing great heat not to kuch to over power, but also great tasting.

Heat:

Not the hottest sauce I've ever had but depends on how much you use I guess

Overall:

My favourite hot sauce I've tried so far... taste is great with a nice heat to it great on burgers Sandwiches etc...